Vietnam is encountering difficulties in exporting rice in the face of fierce competition from Thailand, India and Myanmar.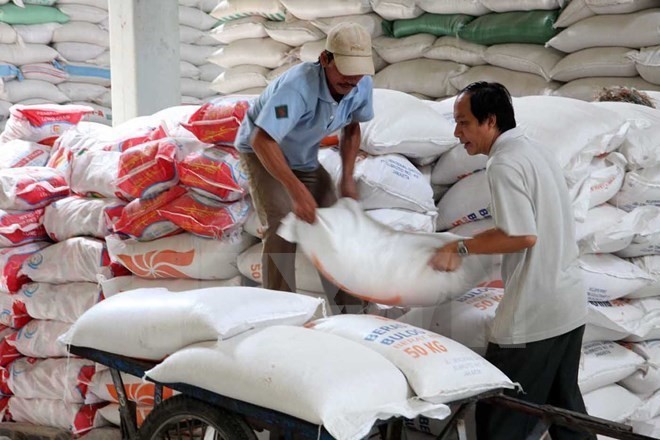 Rice for exports (Photo:VNA)
The statement was made by Vo Hung Dung, Director of the Vietnam Chamber of Commerce and Industry – Can Tho branch, at a workshop in the Mekong Delta city on September 25 to seek solutions for rice producers and exporters.
Statistics from the Ministry of Agriculture and Rural Development showed that in the first eight months of 2015, Vietnam shipped 4.1 million tonnes of rice abroad and earned US$ 1.76 billion, down 8.6 percent in volume and over 13 percent in value compared to the same period last year.
Notably, China, which remains Vietnam's largest rice importer with 32 percent of the country's total market shares, is decreasing its imports from Vietnam. In 2012-2013, around 65 percent of China's imported rice came from Vietnam but the figure reduced to 53 percent in 2014 and 47 percent in the first four months of this year.
In addition, Vietnam's two other major importers, the Philippines and Indonesia, which account for 12 and 5 percent of the market shares, respectively, are striving to boost production towards self-sufficiency.
At the workshop, Chairman of the Vietnam Food Association Huynh The Nang introduced several measures to help businesses improve their competitiveness.
According to Nang, the long-term solution to effectively stabilising production and exports is to provide loans for export businesses' rice stockpiles.
He also suggested reducing risks in harvesting, stocking and distributing rice while striving to building trademarks for the Vietnamese product.
The Ho Chi Minh City Development Bank (HDBank) also took the occasion to introduce its programme to support rice exporters.