Rice exports have surged in the first two months as many of last year's contracts are being executed this year, according to the Việt Nam Food Association.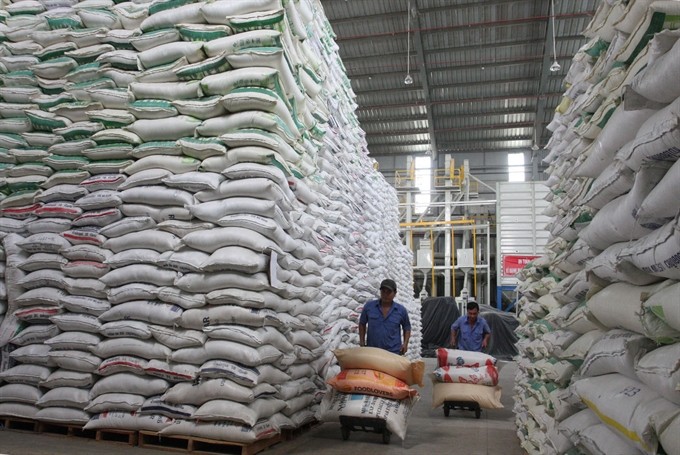 Workers of HCM City Food and Foodstuff company load rice for export.
The country exported more than 856,219 tonnes for US$347.8 million, a year-on-year increase of 101.89 per cent and 81.73 per cent, and Huỳnh Minh Huệ, VFA general secretary, indicated there had been too many orders to handle last year, including some large government contracts with Indonesia and the Philippines.
At a regular meeting of the association last week, he said exports of common white rice accounted for 32.68 per cent of exports, up almost five times from the same period last year, and exports of glutinous rice also surged due to high demand from China.
Exports of fragrant rice continued to grow steadily thanks to increased exports to China and Africa, he said.
VFA anticipates exports to reach 1.3 million tonnes in the first quarter, 56 per cent up from the same period last year.
Huệ said the number of contracts to be executed remained high at around 1.4 million tonnes.
But with inventories at export firms 81,140 tonnes lower than at the same time last year -- at one million tonnes -- they would have to buy rice, he said.
Prices are currently high in the domestic market despite this being the peak harvest season and the association announcing no plans to stockpile the grain.
High demand from exporters coupled with a forecast of falling output in the Cửu Long (Mekong) Delta due to drought and saltwater intrusion has pushed up the prices.
The Ministry of Agriculture and rural Development reported that by March 5 around 139,000ha of the winter-spring rice crop in nine provinces had been damaged by drought and saltwater, with the loss estimated at one million tonnes.
In previous years the VFA proposed purchasing one million tonne of rice for temporary storage at the beginning of March to support domestic prices, but this time farmers can earn reasonable profits at current prices.
According to rice traders in the Mekong Delta, a kilogramme of IR 50404 paddy in the field costs VNĐ4,600-4,650, VNĐ300 higher than a year earlier, and high-grade paddies are priced much higher.