The surging number of investments of local businesses in foreign markets in the first quarter of 2011 has trigger worries from economists amid a wide trade deficit, unbalanced balance of payment and dollar shortage.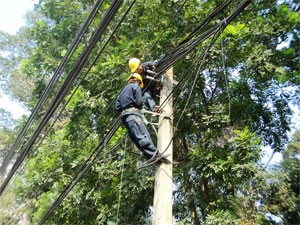 Vietnam's investments abroad focus on three sectors – electricity, water supply and air conditioner (Photo:Minh Tri)
Viet-Laos Joint Stock Company, subsidiary of the giant builder Song Da Group, kicked off the construction work of the Xekaman hydropower plant in Attapeu Province of Laos early last month.
The US$441-million project is the biggest foreign investment in the electricity sector of Laos.
Song Da Group itself has also been granted licenses to carry out another hydropower project named Sekong 3, with an investment of $275 million and an expected output of 205 megawatts.
Statistics from the Foreign Investment Agency (FIA) show the total amount of investments domestic businesses pumped into foreign countries in the first two months of 2011 reached nearly $1.3 billion, which is about $330 million lower than the foreign direct investments in the same period.
Up to 97 percent of the amount flew into electricity, water supply and air conditioner sectors, according to FIA.
FIA said Vietnamese investors focused on Laos and Cambodia only five years ago, investing in forestry, hydropower and natural resource mining sector.
But thing changes now, with 575 projects worth over $24 billion in 55 countries and territories around the world, of which Vietnam's investors contributed $10 billion out of the total amount, according to statistics from the FIA.
The mining sector had made the highest investments of $4.3 billion in 88 projects, followed by the agriculture-forestry sector which invested $1.8 billion.
Economists warned that the surging investments in foreign countries could worsen domestic dollar supply and make the balance of payment unbalanced.
According to the Ministry of Planning and Investment, profits from investments in foreign countries have amounted to $39 million only so far.
 "Earlier the government encouraged domestic businesses to invest abroad as we gained large amounts of foreign direct investments. But given that it is difficult times now, we should be much more cautious on licensing those kinds of investments," said Vo Tri Thanh, deputy head of the Central Institute for Economic Management.
Economists noticed that although most of investments abroad were state-owned, the legal framework remained loose.
The Ministry of Planning and Investment has asked Vietnamese companies investing abroad to report their business projects in an attempt to review capital outflows, Tuoi Tre newspaper reported last week.
 
All reports have to be submitted by April 15, the newspaper said, noting that the focus of the review is on state-owned enterprises.