Vietnam is an attractive destination for investment, with many companies from the Republic of Korea (RoK) planning to invest in the country, said Hong Sun, General Secretary of RoK Business Association in Vietnam.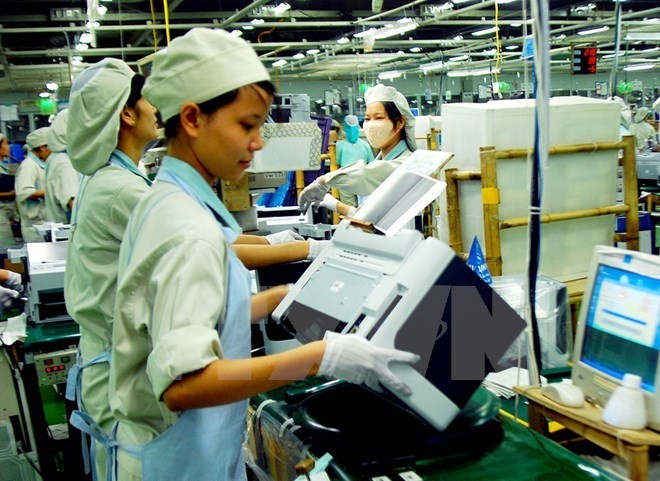 Workers at a Samsung's factory in Vietnam. (Photo: VNA)
In a talk with the Dau Tu (Investment) newspaper, Hong Sun said he believed that the surge of investment from the RoK will continue as several companies want to expand their operation in Vietnam to meet the increasing demand of major industrial groups already operating in the country, particularly Samsung and LG.
He noted that major industrial groups, including Samsung, LG, Posco, Lotte, CJ and Daesang Corp, are also planning to expand their businesses in Vietnam.
According to the businessman, the trend is attributable to positive impacts of the Vietnam-Korea Free Trade Agreement (VKFTA) which came into force in late 2015 and the establishment of a centre to support the deal in March of the following year.
He pointed to the fact that while the VKFTA facilitates investment in various fields,  current Korean-invested projects in Vietnam mainly focus on the processing industry, industrial production, real estate and construction.
With the VKFTA's plan to lower taxes along with Vietnam's preferential policies, the country's energy sector would be able to attract more RoK investors, he said.
The RoK was the leading foreign investor in Vietnam in the first three quarters of 2016 and Vietnam is currently the fourth largest foreign investment partner of the RoK.
According to Hong Sun, besides geographical advantages, Vietnam boasts a young population, hardworking labourers and stable economic development. Vietnam is a market where businesses of the RoK can flourish because of similar characteristics in culture and education of the two countries. Vietnamese people also have high demand for products from the RoK.
However, inconsistent policies and complicated administrative procedures in Vietnam pose difficulties for foreign investment. Therefore, the Vietnamese Government should promote economic reform and improve the investment environment, he said.