The Vietnam Rubber Association has advised local firms to reduce export if rubber prices fall below $1,350 per ton.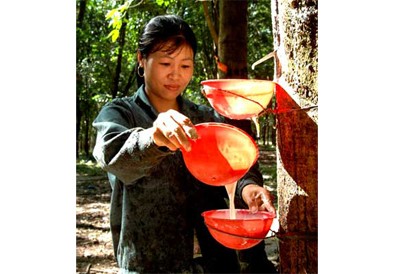 A worker is harvesting rubber sap.
It has also recommended them to increase their rubber reserves to around 100,000 – 200,000 tons if the price is lower than $1,000 per ton.
The country is expected to harvest about 650,000 tons of rubber and will export 600,000 tons this year, three percent lower than last year.
Vietnam exported 54,000 tons of rubber in the first two months of this year, which brought in $70.6 million.
The three countries, whose exports of rubber account for 72 percent of the global market, Indonesia, Thailand and Malaysia at a conference, held March 3 in Ho Chi Minh City, said that they would also cut export by one million tons this year.
The International Rubber Study Group forecast that global demand for rubber this year would fall by 6.4 percent compared with last year but would recover in the following years.