People are rushing to buy Sai Gon Jewellery Company (SJC) gold bullion in the past few weeks after the State Bank of Viet Nam announced that SJC would become the national gold bullion trade mark.
SJC reaped a huge turnover as they managed to sell 20,000 taels of gold in a matter of minutes in a single day.
Gold bullion that does not bear the SJC brand continues to face dramatic price cuts, as people rushed to sell gold bullion of other brands.
Even though the State Bank of Viet Nam (SBV) has said that all brands of gold bullion will be priced at an equal rate, some non SJC Gold bullion producers have stopped making gold bullions.
SBV recently announced that anyone holding gold bullion of other brands could exchange the precious metals for SJC-branded gold at an equal price, and that non-SJC brand gold could still be used later.
The decision came after the SBV governor announced before the National Assembly that SJC would become the national gold brand, and that the company would come under the direct management of the central bank. This move sent gold prices into a tailspin.
In spite of the central bank's announcement, the price of non-SJC branded gold has continued to fall because people are worried about the fate of other gold brands, and have rushed to sell, according to independent market observers.
Ms. Nguyen Ngoc Que Chi, General Director of Sacombank-SBJ Jewellery Company told Sai Gon Giai Phong reporters that her company will suffer huge losses as the cost of investing in machines for making her own trademark gold bullion was not possible. "The machines are worth hundred of thousands of dollars", she complained.
This has caused great loss for people who hold non-SJC-branded gold, too.
As a result of this situation, the gold from Bao Tin Minh Chau Jewellery Company is being sold from VND200,000 to VND1 million, lower than the rate of SJC bullion.
Companies that want to hire SJC to manufacture gold for them would have the required documents, the company said.
Although the central bank named companies that were responsible for supplying SJC-branded gold bullion to the market, people still found it difficult to buy this gold, according to Cao Ngoc Thi Ngoc Dung, general director of the Phu Nhuan Jewellery Company (PNJ).
PNJ has dozens of shops nationwide but the latter did not have SJC-branded gold for sale, Dung said.
She called for the central bank to develop clear regulations on the distribution of SJC gold to avoid price differences.
Some senior economic experts said all gold bullion 9999 were the same, so there should not be a big difference in the price of gold bars bearing the names of different brands.
As general director of a gold trading company in HCMC, Ms Dung understood the psychology of the people and of speculators, saying there was a great deal of official and unofficial information on the management of the domestic gold market. This has confused and worried the public.
Dr Le Xuan Nghia, an economic specialist said if the decree was issued, the central bank must take responsibility to protect the interests of the people who are holding non-SJC branded gold billion. He believed that a pricing gap would result in losses to people.
"How can the rights of gold buyers be ensured", Nghia said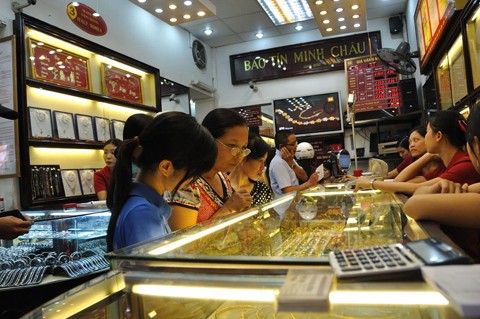 People buying gold at a shop
The Government should also have regulations that stipulate an exchange from non-SJC branded gold to SJC-branded gold at reasonable rates to ensure people's interests, he said.
Late last week, people sold gold from Bao Tin Minh Chau at VND44.3 million a tael and bought SJC-brand gold at VND45.23 million.
Agribank's gold trading company also sold gold at VND500,000 and VND700,000 a tael (37.5 grams, 1.2 troy ounces) less than that of SJC-branded gold.
The non-SJC branded gold-trading companies have tried to cut their gold prices to make their products more attractive to customers, but people still refuse to buy their gold.
Meanwhile, gold shops and other gold investors do not want to buy non – SJC branded gold bullions from customers either.
A SJC representative also told Sai Gon Giai Phong newspaper that the company would buy non-SJC branded gold only when buyers agreed to allow them to have their gold tested for quality.
In light of the new draft decree on bullion market management, only businesses with a minimum registered capital of VND500 billion ($23.8 million) and holding at least 25 per cent market share in the last three years will be licensed to make gold bars.
Gold trading firms are required to have a minimum registered capital of VND100 billion ($4.7 million), two years of experience in trading gold, and a dealer and shop network in at least three provinces and cities.
Moreover, only those that have tax payments of at least VND500 million ($23,800) a year during the last two years are eligible for licensing (Source VNA)