The Korea Trade-Investment Promotion Agency (KOTRA) yesterday signed a memorandum of understanding with the Investment and Trade Promotion Centre of HCM City (ITPC) to facilitate the exchange of investment and trade information between the two sides.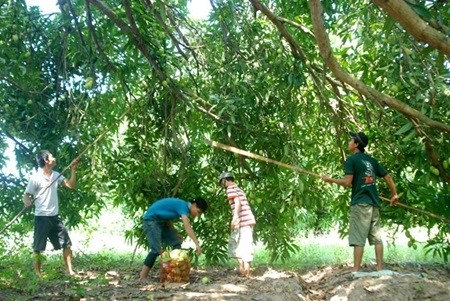 Farmers harvest mango in Cam Hoa Commune, Khanh Hoa Province's Cam Lam District. South Korea has a high demand for tropical fruits like mango and pineapple.
The MoU also aims to boost import and export activities between the two countries.
Pham Thiet Hoa, ITPC's director, said under the agreement, both sides would cooperate to disseminate information about the free trade agreement between Viet Nam and South Korea, and solve obstructions in investment and trade in each other's markets.
KOTRA yesterday also signed an MOU with the Saigon High-Tech Park to promote investment of South Korea firms in the hi-tech sector in Viet Nam and boost co-operation between Vietnamese and South Korean businesses.
Roh Inho, vice president of KOTRA in charge of ASEAN and Oceania, said the Viet Nam and South Korea FTA, which took effect last December, opened opportunities for Viet Nam's key export items, including farm produce, fisheries products, garment and textile and footwear to enter the South Korean market.
South Korea has a high demand for tropical fruits like mango and pineapple, making it a promising market for Viet Nam, according to the KOTRA official.
With lower tariff duties under the FTA, South Korean firms will have opportunities to boost exports of raw materials and accessories for the garment and textile sector, household equipment, cosmetics and others.
In order to increase exports to South Korea, Vietnamese firms need to focus more on improving product quality, design and competitive prices.
Speaking at the Korea-Viet Nam FTA in HCM City yesterday, Park Noh Wan, the South Korean Consul General in HCM City, said more than 2,500 South Korean firms were operating in HCM City and neighbouring localities.
Besides investment in labour-intensive industries like garment and textile and footwear, many invested in hi-tech sectors like electricity and electronics, contributing to the development of Viet Nam's industrial sector, he said.
Nguyen Thi Thu, deputy chairwoman of the HCM City People's Committee, said the city welcomed foreign companies, including those from South Korea, to research investment opportunities in the city.
The city pledged to create the most favourable conditions for their operations, she said.