South Korean companies will now invest in more areas in Viet Nam, ASEAN-Korea Centre General Secretary Kim Young-sun has told an investment forum in Ha Noi.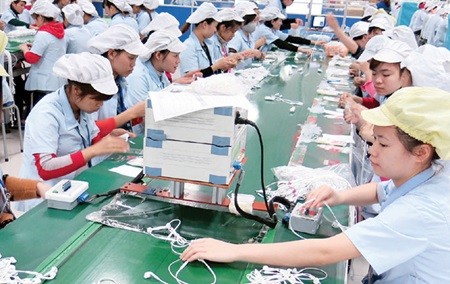 Workers make earphones at Glonics Viet Nam Limited Company, a wholly-invested South Korean firm in Thai Nguyen Province. It makes cell phone parts for Korean Samsung Group. (Photo: VNA/VNS)
The South Korean firms are eyeing sectors with high added value, including electronics and information technology, and officials from 20 large South Korean firms began a five-day trip to Viet Nam on Monday to study opportunities in these fields.
With some free trade agreements set to be signed, Viet Nam will become an important link in an economic chain that will connect 55 countries by 2020. Fifteen of them will be members of the G-20 group, which includes South Korea.
Do Nhat Hoang, director of the Ministry of Planning and Investment's Foreign Investment Agency, on Tuesday said the domestic electronics industry was expected to see breakthroughs in attracting foreign direct investment from the G-20 states, which have highly developed electronics sectors.
This will boost technology transfers and the formation of industrial clusters of foreign and local electronics firms, Hoang said.
"Viet Nam is striving to become one of the major producers of electronics and high-technology products in the region and the world by 2030 by maintaining a production growth rate of more than 10 per cent per year," he added.
The South Korean ambassador to Viet Nam, Jun Dae Joo, said economic exchanges between the two countries had seen "outstanding progress", while General Secretary Kim said the two sides had made "amazing achievements in various areas".
Cooperation between South Korea and Viet Nam has been focused on garments and textiles, footwear and light industries. Bilateral trade has crossed the US$30-billion mark and is expected to touch $70 billion by 2020.
South Korean investors find Viet Nam attractive because its gross domestic product has grown five to six per cent annually in recent years, and it has stable political and social conditions and an improving business environment, he said.
The revision of laws regulating investment and enterprises and the Government's allowance of larger foreign stakes in local public companies are developments especially welcomed by investors, he noted.
The Deputy Minister of Planning and Investment, Nguyen The Phuong, said South Korea held the leading position among countries investing in Viet Nam, with more than 100 investors bringing in total registered capital of nearly $39.2 billion.
Viet Nam ranks fourth among South Korea's investment destinations, after the United States, mainland China and Hong Kong.
Viet Nam was committed to putting in place mechanisms for developing a market economy, Phuong said, adding that it would also develop its human resources and upgrade infrastructure to facilitate foreign investment.
Hoang said Viet Nam would like major South Korean companies to take part in the restructuring of the local banking system and State-run enterprises and to get involved in infrastructure projects related to airports, expressways and seaports.
Small and medium-sized enterprises from South Korea are also welcome to invest in the hi-tech, manufacturing, processing and energy sectors, he said.
To facilitate this, Hoang suggested the two countries should efficiently exploit their bilateral free trade agreement and the two governments should establish regular investment contacts to support business operations