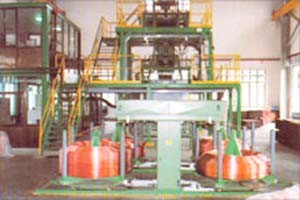 SACOM's electric wire communication cable products
The Cable and Telecommunications Material Joint-stock Company (SACOM) on Tuesday signed a deal with a Cambodian corporation to launch telecommunication services in Cambodia as well as cable installation in Viet Nam.
SACOM and its Cambodian partner, the Pacific Communication Pte Ltd (PCP), will cooperate in providing various telecommunication services in Cambodia such as telephone, Internet, wireless and WiMax Internet services, and gateway leasing.
Besides, PCP will install two optical cables in provinces of Tay Ninh and An Giang, which are expected to be brought into use in early 2007.
Under the agreement, SACOM and its shareholders will hold 49% (nearly US$8 million) of the PCP's chartered capital.
Previously, SACOM has signed a deal with the South Korea's Taihan Electric Wire Co. Ltd to establish a joint venture which produces high-voltage power, optical and telecommunication cables, among other materials, to supply the domestic soaring demand as well as expand business to international markets.