The de-dollarization and de-gold measures of the State Bank of Vietnam kept domestic gold prices unchanged in spite of the international price climbing up.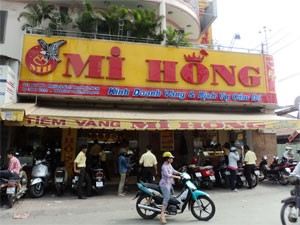 Mi Hong gold shop in Binh Thanh District used to be very crowded everyday, but the trading is almost deserted now due to the central bank's tight policies on gold and dollar (Photo:Minh Tri)
Gold on the global markets turned higher on March 11th after the dollar weakened against the euro and as investors sought the precious metal's safety after Japan's earthquake and with Middle East violence rising heading into the weekend, according to Reuters.
Spot gold rose to US$1,424.05 an ounce, up from $1,412.59 late in New York on Thursday.
Saigon Jewelry Company Limited, Vietnam's largest gold merchant, announced that gold was sold for VND35.26 million ($1,809) per tael in Ho Chi Minh City and VND35.28 million in Hanoi as of 8:11 a.m. last Saturday, down VND300,000 from Thursday's close. A tael is equivalent to 1.21 ounces.
The precious metal's price at many jewelry shops in town treaded water at VND37.5-37.6 million per tael. Gold prices in Vietnam increased by nearly 35 percent over the course of 2010.
Gold shop owners said the business was slowing down on the news that the central bank's Department of Foreign Exchange Management would stop licensing gold shops.
Vietnam is halting the issue of licenses for gold bullion trading and production, the State Bank of Vietnam said on its website, without giving a timeframe.
"People are switching to trade gold jewelry, especially blank rings made by 9999 gold," said an owner of a gold shop in HCMC.
Tran Thanh Hai, head of capital trading department of the GiadinhBank, said local gold price moved on investor sentiment, which was hit hard by the tight policy on gold and dollar of the central bank.
Despite gold decreasing sharply last week, the buying remained weak and showed signs of dropping, he added.
Banks must control the use of gold and dollars in deposits and lending, and the government aims to abolish unofficial bullion trading eventually, the central bank said last week.
Vietnam is cracking down own illegal dollar hoarding and trading to stabilize the currency market. The crackdown has virtually closed the unofficial foreign exchange market in Hanoi since last weekend.
Many gold shops in Ho Chi Minh City have also stopped buying and selling dollars publicly to avoid tightened surveillance announced by the government.