Viet Nam's sea transport industry needed restructuring to become more competitive, said head of the Transport Ministry's Marine Department, Nguyen Nhat.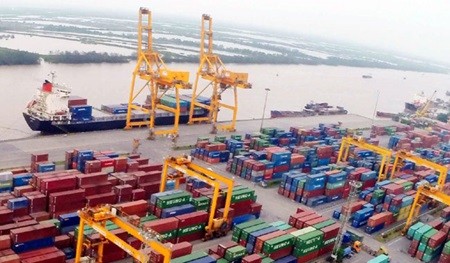 Loading and unloading of cargo at the Hai Phong Port. Viet Nam's sea transport industry needs restructuring to become more competitive, officials say. (Photo: VNS)
He said that the restructuring process must start with diversifying the fleet.
Statistics from the department show that Viet Nam has 600 sea shipping firms with over 1,800 vessels that have a total capacity of 7.4 million tones.
However, more than half of the ships are bulk carriers and other smaller ships, while there are only a few container ships, liquefied gas carriers and specialised vessels.
"The unreasonable structure of ship categories was the weakest point of Viet Nam's fleet," said vice head of the Marine Department Bui Thien Thu.
Thu added that five sixths of the country's sea shipping firms were private, but accounted for only a quarter of the fleets' load capacity.
"The figures show that most of the firms are small," Thu said.
"It's difficult for Vietnamese sea transport firms to compete with foreign companies," he said.
The Vietnamese fleet can currently only deal with 15 per cent of the market share, and foreign shipping companies take the rest.
Vietnamese ships carry goods overseas but mostly on routes to China and Southeast Asian countries, while foreign firms take major markets like Europe and America.
Thu said that about 40 foreign sea transport firms operating in Viet Nam planned to co-operate with each other to raise their competitiveness.
Domestic firms are losing out at home as local importers and exporters usually prefer agreements with international shipping which their partners have the right to select.
Head of the Marine Department Nhat said that Vietnamese sea transport firms usually developed their fleets without long term visions or strategies, which resulted in ineffective business operations.
Nhat said that incentives were needed for local sea transport firms to invest in their fleet.
Besides restructuring the fleet, the Government should offer tax breaks for goods carried by Vietnamese ships, and connect exporters with shipping firms.
He said the Transport Minister had approved a plan to improve Viet Nam's marine infrastructure by 2020.
It estimated that the country needs about US$2 billion to upgrade seaport facilities that have hindered the development of Viet Nam's sea transport sector.
Nhat said that the ministry expected private investors to look at developing these infrastructure projects.
Off the black list
The Secretariat (Tokyo MOU Secretariat) of the Memorandum of Understanding on Port State Control in the Asia-Pacific Region has informed Viet Nam's Marine Department that the country was on the organisation's 2014 White List for countries that have reduced the number of ships detained for failing to pass Port State Control (PSC) inspections.
For years, the country was consistently on the Tokyo-MOU Black List due to its high number of sub-par vessels.
The Ministry of Transport's Viet Nam Register reported that last year, out of 732 vessels that underwent PSC inspections, only 3.55 per cent of Vietnamese vessels were detained. The new numbers show a decrease by 2.58 per cent, or 21 less ships than in 2013.
In May 2013, Transport Minister Dinh La Thang approved a plan to take Vietnamese ships off the Tokyo-MOU blacklist by 2014.
The Tokyo MOU is one of the most active regional (PSC) organisations in the world, consisting of 19 member authorities in the Asia-Pacific region.
It established an effective PSC regime in the Asia-Pacific region through the co-operation of its members to eliminate sub­standard shipping and promote maritime safety, protect the marine environment and to safeguard working and living conditions on board ships. Viet Nam officially became a member of the Tokyo MOU on January 1, 1999.