Seafood export so far this year has reached US$4 billion in value, announced the Vietnam Association of Seafood Exporters and Producers (VASEP) yesterday afternoon.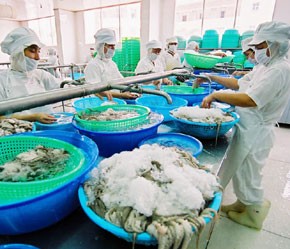 Total seafood export turnover is expected to increase to US$4.3 billion in 2008. (Photo: VnEconomy)
This is a big success for seafood exporters in 2008 because experts had worried the country's seafood would meet many difficulties abroad due to the current global financial crisis. This year's turnover is expected to hit US$4.3 billion.
At present, frozen shrimps, Tra and Basa fish, cuttlefish, and frozen octopus have maintained steady growth.
Specifically, total turnover of frozen shrimp in the first 10 months of this year accounts for 35.4 percent with 158,527 tons worth US$1.3 billion. Tra and Basa take up 32.4 percent with 550,070 tons worth US$1.2 billion, posting a year-on-year 74.5 and 53.3 percent increase in quantity and value respectively.
The EU is Vietnam's largest seafood market, occupying 25.3 percent (US$970 million) of total turnover.