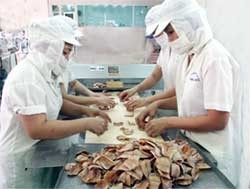 Seafood products are processed for export.
Viet Nam's seafood export turn-over in 2005 to Portugal, an EU member, reached US$7.4 billion, a more than 220% increase over 2004, according to the Viet Nam Association for Seafood Export and Processing (VASEP).
One of the major seafood processors in Viet Nam, An Giang Fisheries Import and Export Joint Stock Company (Agifish) earned a turn-over of more than US$2.4 million, leading nearly 30 other seafood processing enterprises which have joined Portugal's market.