Last year Vietnam's seafood export turnover fell short of expectations with US$6.7 billion accounting for 84.5 percent of the number in 2014. The industry is forecast to continue facing a lot of difficulties this year especially to tra fish fillet, according to the Vietnam Association of Seafood Exporters and Producers (Vasep).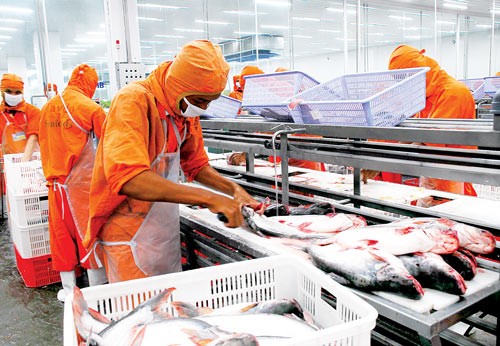 A tra fish processing plant (Photo: SGGP)
The seafood export turnover was a year on year reduction of 16.5 percent in 2015. 
The sharpest fall was from shrimp. Despite holding 44 percent of the total seafood export turnover, shrimp yielded only US$3 billion accounting for 75 percent of that in 2014. Its market was narrowed by one third. 
Tra fish also dropped 10.4 percent over 2014 with export value approximating US$1.58 billion. This product met with low consumption demand and prices in most export markets besides stricter requirements in quality and food safety. 
The fish export value to the U.S and EU-- two largest markets of Vietnam-- dropped by 5.6 percent and 14.3 percent to US$318 million and US$295 million. 
The number of tra fish exporters to the U.S. has shrunk to only 10. 
According to Vasep, the seafood export decline last year was part of the world's economic recession. 
Besides anti-dumping tax, tra fish will see more barriers from the catfish inspection program of the U.S. Department of Agriculture. The program will start an 18 month transitional implementation period on March 1 for both domestic and international producers. 
The shrimp industry's competitiveness has been low because of high cost price. 
Vasep secretary general Truong Dinh Hoe said that Vietnam's cost price much higher than its rivals' because input materials for shrimp breeding such as breed, feed and veterinary medicine have long depended on import. 
Production cost of a baby shrimp in Vietnam is double that in India while feed is 40 percent higher. 
The successful ratio of shrimp farming in Vietnam is only 33-40 percent due to many factors comprising diseases while it reaches 70 percent in India and Indonesia. 
These reasons have caused the price of a kilogram of Vietnamese shrimp US$1-3 a kilogram higher than its rivals. 
Vasep forecast that the shrimp industry will continue to be under influences of price fall and competitive pressure. 
Positive impacts from free trade agreements with South Korea, Japan, the EU and ASEAN might slightly increase the seafood export turnover to near US$7.12 billion, up 6.3 percent over 2015. 
These FTAs will bring Vietnam more comparative advantages than rivals like Indonesia, Thailand, the Philippines, Ecuador, Argentina and India as these counties have yet to sign FTAs with large import markets such as the US, EU and Japan. 
It is expected that shrimp export turnover will see a year on year increase of 12 percent to reach US$3.3 billion, tuna up 8 percent to US$507 million. 
Tra fish is unlikely to recover and forecast to fall 5 percent to US$1.5 billion.