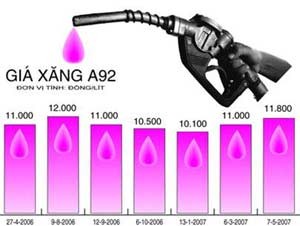 Petrol prices from April 2006-May 2007
Since the Government's Decree No. 55, which allows private petrol companies to set petrol prices, took effect two weeks ago, many petrol companies have had to face even more difficulties.
According to the decree, domestic petrol companies have the right to set and adjust their own petrol prices. However, it is not as simple as it seems.
In fact, as a manager of a petrol company has said, those companies still have to ask the Government for permission to set prices. They are also not allowed to fix prices according to the world market. While often they may ask to raise prices by VND 1,000/liter or more, VND 800/liter is the highest rate allowed by the officials.
Moreover, unlike big corporations like Petrolimex, which already have a stable business system, other small companies are still struggling to fulfill many strict government requirements concerning financial capacity, distance, and area. At this rate, they will not be able to compete with big corporations which can offer much lower prices to consumers.
Therefore, petrol companies should be flexible in finding suppliers, storing the resources, analyzing and forecasting global market movements. They also need to be aware that domestic petrol prices do not necessarily follow the world's petrol market.
Concerning petrol prices, Mr. Dang Vinh Sang, General Director of Saigon Petro Company, said the decree will not affect the retail petrol price on the market. The retail price will result from import fees plus VND 500/liter (for import tax, VAT, luxury tax, transportation fee and other expenses).
Besides, he added, government control is still needed in guaranteeing energy security and regulating the petrol market.