Deputy Prime Minister Vuong Dinh Hue on December 20 said that loss-making enterprises and projects must be handled drastically, urgently, synchronously and unanimously to create basic changes in 2017 and completely tackled by the following year.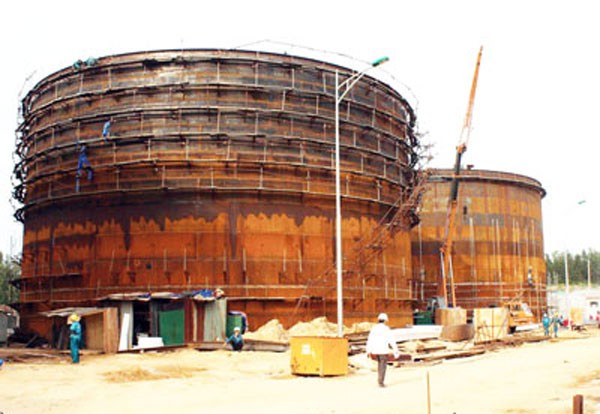 A fuel tank of Dung Quat bio-ethanol plant, one of loose making projects in the field of industry and trade (Photo: SGGP)
He was speaking at a meeting to implement the Prime Minister's instruction to settle unprofitable enterprises at the Government Office.
Deputy PM Vuong Dinh Hue is head of a steering board which the Prime Minister decided to establish at a regular cabinet meeting last week to help the Government handle unprofitable plants in the field of industry and trade.
At the meeting, Mr. Hue proposed members of the steering board to study resolutions of the National Assembly and the Government as well as the PM's instruction on state-own enterprise restructuring.
The settlement of the unprofitable plants is for the country's development, requiring ministries, enterprises and project management board to join hands and report honestly about their situations to find solutions, according to Mr. Hue.
The steering board will assign specific missions as well as deadlines to ministries, agencies and individuals and not permit any delay, he added. Besides reviewing the process of project establishment, the steering board will have overall estimations of their real situation and damage level to report to the PM.
Projects with production capacity will be restructured those unable to do so will be settled through capital withdrawal, auction sale, dissolving and bankruptcy according to the law. The Government will no longer use state budget to make up losses for the loss-making firms, Mr. Hue firmly stated.
He proposed auditing agencies to conduct overall inspections over these enterprises, bring out responsibilities and strictly handle organizations and individuals for breaking regulations.
Besides five plants suffering losses named at the second session of the National Assembly, the steering board has supplemented seven others under similar condition and in need of settlement to reduce losses.

The five plants include Dinh Vu fiber mill, Phuong Nam paper pulp mill, the second phase of Thai Nguyen steel plant, Dung Quat bio-ethanol and Ninh Binh fertilizer.
The seven other projects include fertilizer plants Ha Bac, DAP 1 Lao Cai and DAP 2 Hai Phong; Ethanol Binh Phuoc; Dung Quat shipbuilding yard; a joint venture between Quy Sa iron ore mine and Lao Cai steel plant.