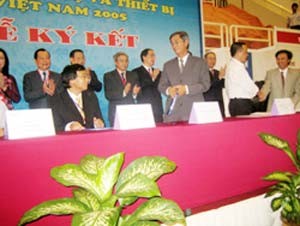 A signing ceremony between local IT companies and foreign partners on technology transfer at Teachmart 2005. (Photo:TK)
Some 130 Vietnamese and foreign information technology companies will participate in the sixth Softmart-Techmart show in Ho Chi Minh City starting on Wednesday.
Housed in Phu Tho Stadium, the 250 booths for SoftMart 2006 and 200 for TechMart 2006 will display the latest software for manufacturing and business management, advanced equipment, new chip designs, and an array of telecommunications technologies.
Throughout the four-day show there will be a business-matching program to link Vietnamese IT firms with companies from China, Taiwan, South Korea, the US and elsewhere.
There will also be a seminar titled "Assessing Intellectual Property – The Invisible Property of IT Enterprises".
The organizers of SoftMart-TechMart 2006 are the Ho Chi Minh City Department of Science and Technology's Information Centre and the International Data Group.