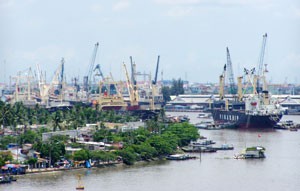 Sai Gon Port is one of the biggest ports in Viet Nam (Photo: Tuong Thuy)
In the first four months of this year, Ho Chi Minh City licensed 80 foreign-invested projects, with a total investment capital of 670.2 million USD, 6.3 times the level registered in the same period last year. The newly-licensed projects helped bring the city's total number of valid foreign-invested projects to 1,980 by the end of April, in total valued at 13 billion USD, up 275 projects and 547 million USD from the same period last year.
The four-month period witnessed an important event. US computer chip giant Intel decided to invest 300 million USD in a plant to make electronic chips and computer parts at the Saigon Hi-Tech Park. This was the first semiconductor project in Viet Nam and Intel's latest project in electronic chips and computer parts in Southeast Asia.
During the period, Japan's NIDEC, which operates a 94 million USD facility at the Tan Thuan Export Processing Zone, also decided to pour 500 million USD into several projects in the city, including the 180 million USD Hiep Phuoc Port Industrial Zone and the 318 million USD Binh Loi-Tan Son Nhat beltway.
On May 11, the Sembcorp Industries Group of Singapore signed a Memorandum of Understanding with the municipal Department of Planning and Investment on the construction of a 700 MW power plant at the Hiep Phuoc Industrial Zone in Nha Be district, with a total investment of 400-500 million USD.
With regard to domestic investment, the city saw 3,855 business start-ups, with a total capital of over 9.9 trillion VND (622 million USD), during the first four months of this year. The figures represented a year-on-year rise of 33.4 percent in the number of business start-ups and 62 percent in the amount of registered capital.
More private businesses have invested in projects to build, upgrade and develop technical infrastructure in the city, as well as in services. One of the most prominent projects was the 100 billion VND (6.26 million USD) An Sinh Hospital, which opened on May 7.
The city has worked hard to remove obstacles for enterprises in compensation for ground clearing as well as in land leases and procedures for company establishment.
Further reform in administration has been considered a key step to attract investors, who now can submit applications and receive licenses in just one day through internet.
All relevant agencies, ranging from the construction service to those dealing with natural resources-environment, planning-architecture, transport-public affairs, post-telecommunication, customs and taxes, are ordered to make public their plans and progress made in executing investment projects, incentives and procedures.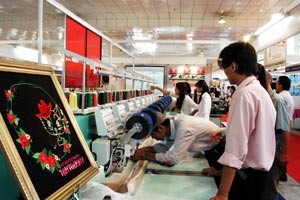 An high-tech exhibition in Ho Chi Minh City (Photo: Thai Bang)
The municipal administration has launched a website, providing information on a large number of industries, services and administrative agencies at sub-municipal levels. It has become a bridge connecting leaders at all levels, services and relevant agencies with enterprises of all economic sectors. Businesses can raise their concerns and receive replies in the shortest possible period through the website.
Trade promotion campaigns have expanded considerably through a number of investment fairs offering 132 projects, including 51 projects on infrastructure and real estate development. These fairs have attracted over 400 enterprises, including 250 foreign investors.
The city has sent a delegation led by a People's Committee Deputy Chairman to Malaysia and Singapore to call for investment into 24 infrastructure projects with a combined capital of 7 billion USD. A number of international economic, financial and banking giants have come to investigate investment opportunities in the city.
The city has given priority to foreign-invested projects on high-tech, infrastructure and residential area development. It piloted auctions of urban land areas to foreign investors to construct offices and accommodations for rent, and to carry out other commercial activities within a certain time.
The city has combined production development with the expansion of domestic and export markets, creating a breakthrough for investment in hi-tech and deluxe services.
Alongside simplifying administrative procedures and fighting red tape and corruption, the city has also intensified protection of legal interests for investors and entrepreneurs, such as ensuring industrial property rights and fighting illegal and counterfeit products, and trade fraud.
Seminars and forums were held to collect investors' suggestions in order to formulate appropriate policies and measures for a better investment environment.
Experts said HCM City needs to mobilise around 434.5 trillion VND (27.2 billion USD) to maintain a targeted GDP growth rate of 13 percent annually in the next five years. Of the figure, the city plans to obtain 23 percent from foreign sources such as foreign direct investment (FDI) and official development assistance (ODA), and 47 percent from private businesses.
Source: VNA