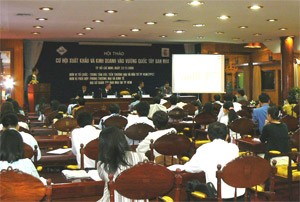 At the seminar (photo V.G)
Speaking at the seminar "Opportunity to Export and Trade with Spain", Mr. Issac Mactin-Barbero, trade adviser of the Economic and Commercial Office - the Spanish Embassy in Ha Noi said Viet Nam is an attractive market to Spanish investors.
Spanish investors are interested in the subway project of Ho Chi Minh City.
Currently, a Spanish Petrol Corporation has invested US $2 billion in the Dung Quat Refinery Oil Company, making up 20 per cent of the total.
Key industries which interest Spanish investors in Viet Nam are space industry, infrastructure construction, subway, energy recycling and water treatment.
Two-way annual export turnover rises gradually. It is expected to reach US $900 million in 2006, a year-on-year increase of 20 per cent.
Viet Nam's key exports into Spain are garment-textile, shoes, frozen fishes and agricultural products.
The seminar was held Wednesday by the Spanish Embassy and HCMC Investment and Trade Promotion Center.