Local fish processing and exporting enterprises are expanding their export markets to the EU and Asian countries after the US' dumping suit against Viet Nam's catfish in 2002. However, there remain a lot of difficulties and suggestions were given by relevant authorities.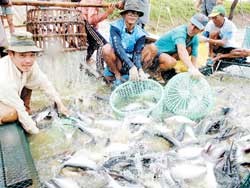 Basa fishes are collected in An Giang province. (Photo: D.T) 
The US Ministry of Trade has announced tax reductions from 36.84% to 6.81% on frozen tra and basa fillet from Dong Thap-based Vinh Hoan Company Ltd. On the contrary, the tax imposed on Can Tho's CATACO increased to 80.88%.
Vinh Hoan and CATACO are among the four official defendants in a dumping suit against Viet Nam-made tra and basa in 2002.
However, according to Mr. Vo Dong Duc, Managing Director of the CATACO, whether the taxes on his companies' aquatic products are 45.81% or 80.88%, the company is not much affected because it withdrew from the US market and is currently boosting exports to new markets in the EU.
After the US' dumping suit against Vietnamese catfish in 2002, many local enterprises have promptly expanded their export markets to the EU and Asian countries.
Remaining barriers
The biggest challenge to Viet Nam's aquatic exports so far, according to many Vietnamese enterprises, is not taxes but a shortage of raw material for processing and exporting.
Over the first four months of 2006, processing factories in the Mekong Delta provinces including Can Tho, An Giang, Dong Thap, etc, operated at only 40-60% of their capacity because there was not enough raw fish material supply.
The Vietnamese Ministry of Aquatic informed that the situation of raw material shortage will last until the end of May 2006.
Barriers in trading and technologies still exist, requiring local enterprises to make adjustments. In fact, if Vietnamese processing and exporting enterprises want to join the EU market, they must fulfil the union's requirements of quality and food safety standards.
Besides, the EU recently informed that they will establish investigation teams to supervise Vietnamese enterprises' imports of raw shrimp materials from China and India for processing and exporting to the EU to benefit the general preferential tariff.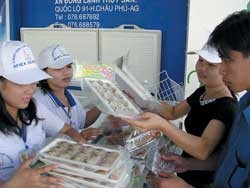 More and more products processed from frozen tra and basa fishes are on sale in the domestic market. (Photo:V.T)  
Price of raw materials in Viet Nam's market was always at a high level over the past four months. In An Giang province, processing factories are currently buying raw fish materials from farmers at VND13,600 - 13,800 a kilogram, trenched-fed white-meat fish at VND14,000-14,200 a kilogram.
According to the An Giang Fisheries Association (AFA), ten tra and basa processing companies in the province consumed daily about 1,000 tons of raw materials. The important thing is how to control the tempo of development within farmers and the timing of raw material supply must be in accordance with the processing capacity to maintain the products' quality and food safety standards.
Also, the AFA said farmers who previously suffered loss and quitted raising tra and basa are getting back to restore their business in raising catfish, increasing the province's farming area to 1,400 hectares, an almost 21% increase over the first months of 2006.
The total number of catfish cages along rivers in An Giang province is also increasing to 3,000, in which tra and basa cages accounted for 63%, a 12% of the increase compared with January, 2006.
A stable raw fish material raising zone needed
Dr. Nguyen Van Hao, Acting Director of the Aquaculture Research Institute No.2, said that Viet Nam should establish an uninterrupted fish raising system to control the source of raw fish materials.
"The current concerns are about a rising number of non-member fish farmers and the polluted environment, which resulted in recent ebb-tide phenomenon and poor fishes' health," he said.
According Mr. Huynh The Nang, Director of An Giang Province's Department of Agriculture and Rural Development, our key task is to establish a stable fish material raising zone. The initial task is to reorganize the production based on a common fish raising standard, which will be set up by foreign partners.
The AFA has held many training courses for 124 farmers to raise clean fish according to the international SQF 1000 criteria.
Together with the farmers, local enterprises are also restructuring their production, aiming at raising "clean" and "ecological" fish for export expansion to many potential markets.
In the first four months of 2006, processing and exporting factories in An Giang Province exported over 23,000 tons of tra and basa to 45 countries worldwide, earning a turnover of US$54 million, a year-on-year increase of 62% in quantity and 54% in value.
According to Mr. Duong Nghia Quoc, Deputy Director of Dong Thap's Province's Department of Agriculture and Rural Development, a common fish raising criterion for Mekong Delta farmers is not feasible. Depending on different raising areas and enterprises who decided their major market, there will be a suitable set of raising criteria.