State owned enterprises (SOEs)'s equitization has been estimated to be quite advantageous for the last five years as it has taken place at companies operating efficiently and attractive to investors. However experts forecast that the activity will be more difficult in the upcoming time as most of the remaining firms in need of equitization have run less effectively.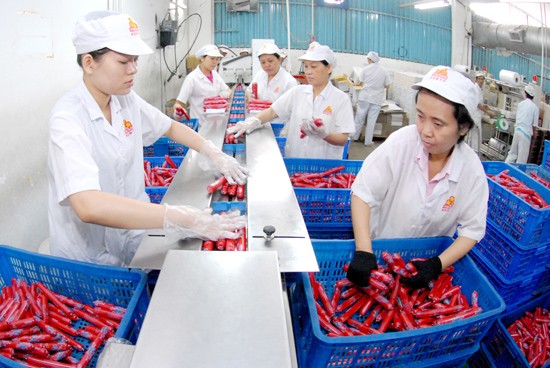 Sausage making at Vissan company that has been equitized (Photo: SGGP)
During the phase of 2011-2015, the Government has drastically restructured SOEs with a slew of circulars, decisions and instructions having been issued to speed up their progress of equitization and capital withdrawal.
Thanks to these efforts, a total of 485 businesses have been equitized. Most of the equitized firms have been reported better than before performance with equity increasing by 12-18 percent.
Equitization has seemed to be advantageous with efficiently operating companies, who have drawn investors' attention such as Vissan and Cholimex Food. In the upcoming time, the program will take place at less efficient and unattractive ones whose equitization should have been sped up beforehand. Hence, experts forecast that SOE equitization will be more difficult.

During the same phase, state own enterprises withdrew over VND11 trillion (US$493.46 million) from investments out of their fields. Experts said that the capital withdrawal has failed to meet expectations with low divested amount and losses, consequences of ineffective non-core investments.
For instance, many businesses had purchased shares of Joint Stock Commercial Bank for Foreign Trade of Vietnam at the price of VND70,000 per share, which dropped to VND10,000 when they divested from the bank.
A number of others have reported difficulties in asset evaluation mechanism, brand valuation, handling outstanding debts while drawing capital out from non-core fields.