Prime Minister Nguyen Xuan Phuc has recently chaired a meeting with related ministries and agencies on the policy of state capital withdrawal at Saigon and Hanoi beer companies (Sabeco, Habeco) and SCIC stake sale at ten companies including Vinamilk.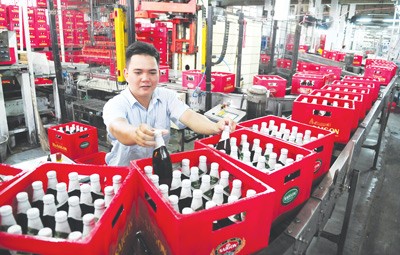 A production line of Sabeco (Photo: SGGP)
According to the policy, capital withdrawal will continue at Saigon Beer-Alcohol-Beverage Joint Stock Corporation (Sabeco) and Hanoi Beer Alcohol and Beverage Joint Stock Corporation (Habeco). 
The shares of State Capital Investment Corporation (SCIC) will be sold at ten companies including Vietnam Dairy Products Joint Stock Company (Vinamilk). 
Sabeco and Habeco have been equitized but the Government still holds dominant shares. State capital at Vinamilk is below 50 percent but has a very big value. 
At the meeting, the government instructed leaders of Finance, Industry and Trade, Planning and Investment, Justice Ministries and SCIC to carefully discuss and reach an agreement on enterprise and share valuation, share selling mode and conservation of brand names after the capital sale. 
Concluding the meeting, the Prime Minister required that state capital withdrawal and share sale must obey by the Enterprise and Securities Laws; ensure market practice, transparency and the country's benefits; fight against corruption and group benefits and keep state capital intact. 
The Steering Board on Enterprise Reform and Development and relevant agencies must closely supervise SCIC, seek opportunities to sell stock at the highest price and prevent state capital loss. Any problems beyond their jurisdiction should be reported to the Prime Minister. 
The PM required Habeco and Sabeco to list on the stock market before selling state capital to ensure transparency and the country's benefits. 
He urged organization of public auctions to choose prestigious, qualified and experienced consultant firms to prevent wrong stake valuation from causing state capital loss. The valuation must rely on the law, market practice and consultant units' opinions. 
He pointed out that the share sale must be competitive without differentiation between local and foreign partners. 
He asked the Ministry of Industry and Trade to build effective share sale projects at Habeco and Sabeco in accordance with current regulations and opinions of the Government and ministries. The ministry should learn from experience to continue state capital divestment at other firms.