Viet Nam seeks strategic partnerships between well-established investors and Vietnamese corporations and state-owned enterprises in order to boost their competitiveness, says Permanent Deputy Prime Minister Nguyen Sinh Hung.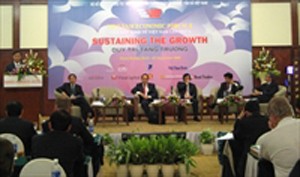 The 2nd Viet Nam Economic Forum starts on Sept.19 in Hanoi (Photo: VOV News)
Speaking at the 2nd Viet Nam Economic Forum themed "Sustaining the Growth", Mr. Hung said he believed the country would achieve macroeconomic stability within this year, and regain its rapid and sustainable growth soon.
The two-day forum, which opened on Friday, was organized by the Ministry of Planning and Investment in co-ordination with the Viet Nam News Agency and the Asia News Network.

More than 500 delegates at the event focused on solutions needed for Vietnam to overcome the difficulties caused by the global financial crisis and maintain its long-term development objectives.
"Proper solutions adopted by the Vietnamese government have started bringing results," the Deputy PM  said.
In response to concerns raised by the President of the European Commerce and Industry Chamber (Euro Cham) about the progress of equitization of state-owned enterprises (SOEs) in Viet Nam, Mr. Hung affirmed that the process was on the right track, and should be conducted according to a proper roadmap in which prestigious foreign partners were needed.
Growth haste inadvisable
Viet Nam should not be too eager to accelerate economic growth, given the global recession that is happening, said Supachai Panitchpakdi, Secretary General of the United Nations Conference on Trade and Development (UNCTAD).
What matters is not how much investment capital is poured into Viet Nam, but how efficiently that capital is used for boosting economic growth and improving social conditions, he said.   
Advising against a focus on rapid growth, the UN official noted that even the U.S., the world's leading economic power, may gain a growth of only 0.8 percent this year, instead of 1 percent that it had set earlier.
A growth of six percent is possible for Asia this year, he said. Continued growth on this scale would depend on Asian giants China and India maintaining their current momentum.
Supachai Panitchpakdi said Asia in general and Viet Nam in particular would continue to be particularly attractive to investors despite a world economic recession, with investment focused in certain areas.