Sugarcane farmers are facing losses amid massive smuggling from Thailand and low input prices at major factories.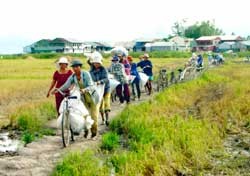 Smuggling refined sugar via Long An province in the south (Photo: SGGP)
Everyday, 300-400 tons of refined sugar is being smuggled through the southwest border, causing losses of millions of dong to state coffers, said Dr. Ha Huu Phai, Secretary General of the country's Sugarcane and Sugar Association.
Vietnamese sugar cannot compete with its Thai counterparts whose production costs are lower thanks to better technology. Thai sugar is VND300 lower per kg than domestic products, he added.
Currently, production cost for every kilogram of white sugar is VND7-8,000/kg in southern Viet Nam. This high rate coupled with low selling prices of less than VND8,000/kg is dealing heavy losses to many sugar plants which in turn slash input prices for sugarcane.
Even now when the sugarcane crop in southern Viet Nam is nearing harvest time, prices still remain stagnant. Yesterday, refined sugar retails at just 8,000-8,500/kg.
Phai explained that both Viet Nam's sugarcane productivity and quality are worse than those in neighboring countries. Productivity in the Southeast Asian country is 54.8 tons per ha while China's is 70-80 ton, which roughly equals Thailand's.
However, Viet Nam is expected to churn out more sugar as several major state-owned sugar plants are scheduled for equitization.