Viet Nam's sugarcane farmers are facing difficulties as the price of sugarcane steadily decreases during the current harvest season.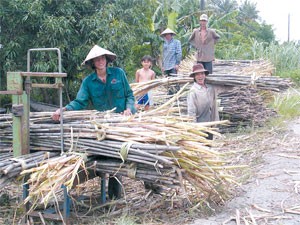 Farmers complain that it is hard to sell sugarcane

At present, growers in the southern provinces of Soc Trang and Hau Giang are getting only VND 260 to 280 for a kilo of sugarcane, and the price is still dropping.

Farmers are extremely nervous in the face of devastating losses. One farmer said, "We bought sugarcane stock at a high price anticipating a similar harvest price as last year, but now we are forced to sell it at only VND 270 per kilo. That type of loss is hard to swallow."

The same plummet in price is happening to farmers in other localities as well. The vice director of a sugarcane processing factory in the Hau Giang Province said, "Most factories are working at maximum capacity. Therefore, they cannot and will not be able to buy all the sugarcane from farmers."

The primary reasons for the fallen prices of sugarcane are two-fold. Firstly, sugarcane cultivation has been grossly over-expanded. Last year's crop was small, yet there was an increased demand, therefore, the price of sugarcane rose to between VND 600 and 700 per kilo. The aftereffect was that more farmers rushed to grow sugarcane, thus exceeding this year's demand.

According to the Viet Nam Sugar and Sugarcane Association, the 2006-2007 harvest is expected to yield around 1.4 million tons, up 27% from last year's harvest.

Because of last year's inflated global prices, the same over-production has taken place worldwide. The International Sugar Organization predicts that the world's sugar supply will exceed 5.8 million tons over the demand, decreasing its market price internationally.

The other reason for the fallen prices of sugarcane in Viet Nam is that the domestic market is being saturated by illegally imported sugar from Thailand, which is dominating the market.

If the governmental bodies in charge of this economic sector try to get involved by, for example, raising the domestic sugar price, that will only exacerbate the smuggling problem and flood the Viet Nam market.