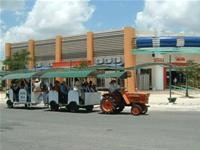 Customers can take free buses to visit the Moc Bai mini mart.
Unlike two years ago when there were only a few projects carried out, with additional incentives for investors since 2004, the Sun City has undergone considerable change with new trade and investment events taking place everyday, according to Mr. Duong Thanh Van, Head of the Planning and Investment Department of the zone.
One of the projects of " a vision of ten years and more", as Mr. Duong Thanh Van said, is Hiep Thanh trading center, with an area of 48 ha and registered capital of VND376 billion .
In early August, 2006 a modern housing estate was started with 104 various shops. A restaurant with 5,000 seats and an 8,000-square meter supermarket will soon be put into service. A parking lot and an 800-meter road straight to Cambodia border are also going to be built.
"Although the turnover is only VND100 million per day, it would be very different in the coming years as there are more and more customers, " said Mr. Vo Hong Tam, Deputy Director of the Nam Phat Import- Export Commercial Company Limited, investor of the project.
Meanwhile, the shopping center near the border is also very bustling, including the Golden Century duty-free supermarket, a mini supermarket of Van Thanh Company Ltd and a border market. It attracts more than 3,000 domestic and foreigner consumers everyday.
With an area of 20,000 square meters, the Golden Century supermarket has a turnover of VND20 billion a month, selling 30,000 various products of many countries.
Moreover, it has created jobs for many locals, many of whom used to be porters or hired workers, with the salary of VND1 million per month.
Besides, many housing estates are also under construction next to the trading center. "We plan to develop the commercial center first to lure more labors and then the town development will be followed by entertainment centers", said Mr. Thanh.
Yet, there are still many difficulties as the zone attracts only domestic investors with low investment capital due to uneven development of infrastructure and transportation between different regions.
Due to the lack of marketing, just a small quantity of goods is sold to Cambodian customers as only people with an identity card or visa can go to the shopping center.
Each consumer is allowed to purchase only VND500,000 worth of goods per day. Therefore, many people are hired to buy goods for traders as the goods here are 30% cheaper than normal. However, there is no measure to control it.
Established in 1998, the Moc Bai border economic zone covers 21,283 ha and shares 34 km borderline with the Svay Rieng province of Cambodia, including the Moc Bai international border gate and two other border gates, Phuoc Chi and Long Thuan.
According to the management board of the Moc Bai zone, the Sun City has attracted 27 businesses, registering to invest in 38 projects, with the total investment capital of VND5,414 billion.
It has developed 5 investment projects for constructing infrastructure of industrial zone, 8 housing projects and 22 commercial projects. Besides, there is a wood processing factory with 100,000 m3 of products per year, a steel refining factory with an annual capacity of 24,000 ton, and a joint-venture company between Viet Nam and Cambodia transporting passengers with two of 26 buses being now put into use on the routes from Moc Bai to Ho Chi Minh City and to Tay Ninh town.
Related link: