Supermarkets are springing up all over the country. In Ho Chi Minh City alone, at least five more have opened within the last two months. Is it a profitable business? And do supermarkets steal shoppers away from the traditional markets?

A boom in supermarkets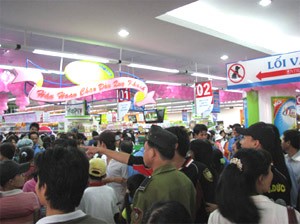 Co-op Mart Bien Hoa has been packed since opening earlier this month
Many supermarkets and shopping centers have started up recently. In early May, Dong Hung Co., Ltd. opened its eighth Citimart store in Binh Thanh District to bring the total nationwide to 17.

A month later, Parkson Corporation opened its second shopping center, in Hung Vuong Plaza in District 5, with investment capital of US$6 million.

In July, the Viet Nam National Textile and Garment Group (Vinatex) inaugurated its 46th store, the five-story Vinatex Ly Thuong Kiet at CMC Plaza in Tan Binh District. The project has investment capital of VND6 billion (US$373,000).

One day later, Saigon Co-op and Bihimex opened a Co-opMart store in Bien Hoa, Dong Nai Province that cost VND75 billion to put up.

Ngo Van Hai, deputy director of Dong Hung Co., says the supermarket boom is not restricted to the cities but is spreading into the provinces.

"We are racing against the clock to find appropriate locations for new stores before the Government allows more foreign companies to set up supermarkets and distribution centers in Viet Nam," he said

Nguyen Thi Hong Huong, director of the Vinatexmart chain, announced that the company would open four more stores in the remainder of the year.

By the end of July, Saigon Co-op will have added six Co-opMart stores to bring its total to 23. The company's ambition is to open up to eight new stores this year.

Big C is preparing to open a US$12-million store in Da Nang in October, its seventh in Viet Nam.

Changed shopping habits

It's six in the evening yet all three floors of Vinatex Ly Thuong Kiet are full of shoppers - a good sign for any new supermarket.

Located near Tan Binh wholesale market, the Vinatex store has already proved a hit with the locals, many of whom had never ventured inside a supermarket before and did all their shopping at the market.

These days Viet Nam's supermarkets are packed with shoppers and the curious.

Ms. Lam of Tan Binh District is a convert. "Recently I've been doing all my shopping at the supermarket. Sure the merchandise is a bit more expensive than outside but the quality is superior. So, in a way, the prices work out the same."

Ms. Thai Hoang, an accountant with a private company, points out how tiring it is to walk around a market after a long day at work and be jostled at every turn, not to mention the pickpockets. Supermarkets, on the other hand, are cool and safe so the higher prices are a reasonable compromise.

Unsurprisingly, the supermarkets do twice as much business on weekends compared to weekdays. Still, this will likely change as the public gets used to the idea of supermarket shopping and begins to make it a daily habit.

Preparing for competition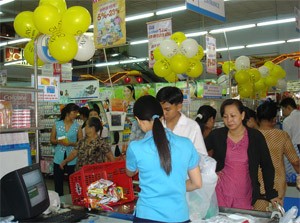 People shop at a supermarket, a common sight today (Photo: Hoang Yen)
One store manager, who asked to remain anonymous, disclosed that the supermarket trade was no longer as profitable as before.

"We have to compete fiercely for business as there are supermarkets and retail shops opening everywhere. Our profit margin used to be over 15 percent; now it is only about half of that, perhaps 10 percent at best," he said.

Tran Thi Kim Quyen, director of the Co-op Mart chain, said the presence of big foreign retailers like Big C, Metro and Parkson in the country was "very critical" for Vietnamese enterprises.

The Co-op Mart chain turned over VND2 trillion (US$125 million) in the first half of 2007, a year-on-year increase of 40 percent. According to one industry expert, this is a low figure given Co-opMart's size and expenditure.

Recently, Saigon Co-op teamed up with Ha Noi Trade Corp. (Hapro), Saigon Trading Group and Phu Thai Group to establish the Distribution Network Development & Investment Joint Stock Company, abbreviated as VDA, to make Saigon Co-op more competitive.

VDA is planning to build shopping centers and warehouses to prepare for the future competition.