Among goods supermarkets have stockpiled for upcoming Tet (the Lunar New Year), domestic products occupy most shelves, as have they received preferential treatment to help stabilize the country's markets.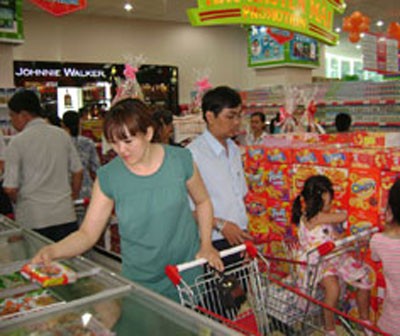 Customers choose Vietnamese products for Tet holiday ( Photo: LDO)
Locally-made food and consumer goods are favorites for Tet shoppers, said the Deputy Director of the Hanoi Service of Industry and Trade, Nguyen Thi Nhu Mai.
Many companies have foodstuffs, fresh foods, drinks and candies ready for Tet. Thai Duong has 250 tons of rice in stock and Ha Noi's Beverage Company will supply 71 million of liters of beer and wine. Shopping centers and the Metro, Big C, Intimex, Fivimart supermarkets have spent over VND1 trillion ($57 million) buying essentials ready for Tet.
Ms Duong Quynh Trang, External Relations Director of the Ho Chi Minh City Big C Supermarket, said that of 50,000 items available at her supermarket, domestic products make up 95 percent, five percent more than last year.
She added that the supermarket paid around VND120 billion ($6.85 million) in cash to domestic producers whose goods will be shelved in the best positions.
The situation is the same at the Metro Cash & Carry, where locally-made products occupy over 90 percent, notably food, while the Coop Mart supermarket chain has reported a plan to increase domestic products by five percent.
The newcomer, 100% foreign-invested, Lotte Mart announced that overseas products account for 15 percent of goods available in its supermarkets.
Home products have been warmly welcomed because they have proven to be of good quality and competitive in price compared to foreign counterparts.
The Hanoi Industry and Trade Service Deputy Director, Nhu Mai, said domestic businesses have recently paid more attention to promoting trademarks, as well as upgrading their technology, improving quality and diversifying products.
While the price of beverage and fish has hiked in the new year, they have remained stable at supermarkets, some prices have even decreased through promotions.
Citimart and Maximart are planning VND2 billion ($114,000) worth of discounts. Saigon Coop and Big C are selling goods with 5-30 percent off.
Manufacturers are also making efforts to improve quality to beat cheap Chinese imports, which once flooded the market. Candy from Kinh Do, Bibica,Snfood, Pham Nguyen, Hai Ha, Coopmart have replaced other candies from neighboring countries.
Because consumers have become more selective in buying products, supermarkets have also decided to sell Thailand products, over other regions, due to its reputation for quality.
All supermarkets announced that they will remain open late on the eve of Tet (January 25) to ease the last-minute rush and help customers avoid unreasonably expensive prices around Tet celebrations.