Basing on increasing supply sources in the real estate market in Ho Chi Minh City, experts have forecast the second 'purification' since 2008 in which businesses with weak financial ability, without strong brand names and good project positions will be eradicated.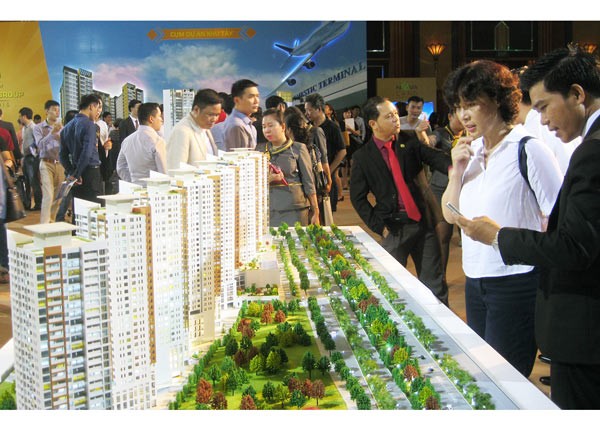 Customers learn about a property project in HCMC (Photo: SGGP)
The city Department of Construction said it had approved 19 housing projects and assessed basic designs of another 18 this year with a total capital of VND9 trillion (US$401 million) and floor area over 600,000 square meters.
 
Savills Vietnam reported that HCMC had 30,500 apartments at the end of the third quarter. Most of these were high class projects in center areas, for instance, Vinhomes Central Park provides 10,000 apartments, Masteri Thao Dien 3,000 apartments, Scenic Valley 1,200, Sarimi 6,500 and The Sun Avenue 1,860.
 
The city is estimated to have about 57,500 apartments from 92 existing projects and other future projects by 2017. About 33 percent of the supply will be built in 2015-2016.
 
Besides, investors have opened for sale about 930 villas and houses by the end of the third quarter taking the total to 1,680, a quarter on quarter increase of 47 percent and year on year increase of 142 percent. District 9 has replaced Go Vap to become the largest supply area of this segment.
Most investors have developed their projects towards star standards, for instance, Khang Dien Company has sold villas of Lucasta bio project with the price swinging from VND7.8-25.5 billion (US$347,000-1.14 million).
 
Information from National Assembly sessions show that the economy has still faced with many difficulties. Therefore, there is not much expectation from real estate market assistance policies.
 
Director general of Novaland Group Phan Thanh Huy said that the real estate market has warmed up in all segments but investors have begun facing challenge from large supply.
 
Experts said that projects with the price of VND3-5 billion (US$134,000-223,000) an apartment do not suit the demand of most customers. Investors of these projects have hoped to lure foreigners and oversea Vietnamese, who have mainly bought properties for rent. About 25 percent of high class apartments in the city have been purchased for this purpose.
 
Chairman of the HCMC Real Estate Association Le Hoang Chau said that medium and small apartments with prices of around VND1.5 billion plays mainstay role to sustainable development in the real estate market.
 
This segment meets real housing demand of a mass of residents. A major part of the city's population of 8-10 million is young people in dire need of affordable houses. However investors have seemed not to be interested in low cost projects because of low profit.
 
Therefore, high-class segment will be a playground of prestigious businesses that can chose good positions to implement their projects.