Reforming State-owned enterprises is a key task but the most sensitive and difficult in the process of changing into a market economy, experts said at a forum organized by Dau Tu (Investment) newspaper and the State-owned Enterprise Club in Hanoi October 8.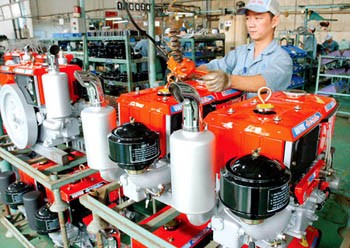 A plant belonging to State-owned Vikyno & Vinappro agricultural machinery company. Privatization of State firms remains behind schedule, experts said at a seminar in Hanoi October 8 (Photo: SGGP)
Dr Nguyen Dinh Tai of the Central Institute for Economic Management, a Government think tank, said the biggest problem is that privatization of SOEs is not on schedule, especially that of large financial and banking businesses.
It has been very difficult to find investors for them, resulting in the State continuing to hold the major share – more than 52 percent, on average -- in privatized businesses, he explained.
Besides, even after being privatized, many businesses are still run by the old managers in the old way, he said.
Dr Tran Tien Cuong, head of research at Enterprises Reform and Development Department, said the State's dual role of management and also ownership of SOEs has led to confusion.
The State owns eight economic groups and 96 companies which account for 50 percent of the Government's budget spending and contribute 40 percent of the country's GDP.