Vietnamese tra fish exporters should see Asia as an answer to difficulties they are facing in markets like the US and the EU, experts and officials say.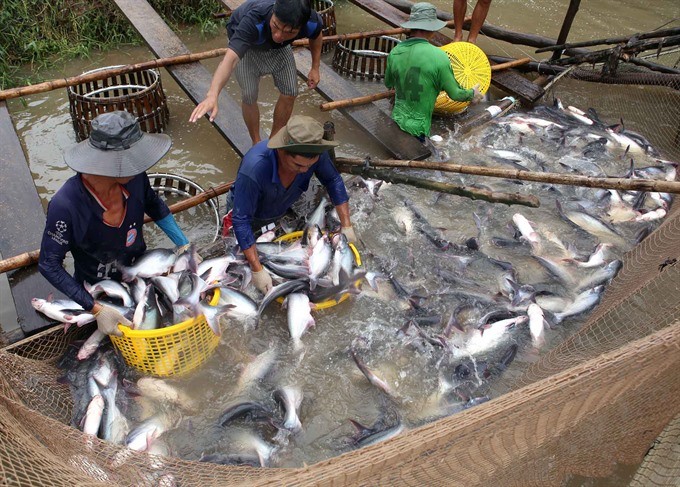 Two workers harvest tra fish at the Tan Thanh Tra Fish-Raising Co-operative in Tan Hoi Commune, in the Mekong Delta's Vinh Long City. The Ministry of Agriculture and Rural Development has predicted a 10 per cent increase in tra fish export value this year to US$1.7 billion. (Photo: VNA/VNS)
The Ministry of Agriculture and Rural Development (MARD) has estimated a 10 per cent increase in tra fish export value this year to US$1.7 billion. It has also said that China could overtake the US as the largest buyer of tra fish from Vietnam.
The ministry has also responded to the problems exporters are having with leading markets like the US and the EU by advising them to focus on exploring Asian markets and tapping better the domestic market potential.
The Vietnam Association of Seafood Exporters and Producers (VASEP) said that export of tra fish to the US and the European Union would continue to face difficulties, including competition with other kinds of fish in the EU market, anti-dumping duties and more stringent inspections of Vietnamese tra fish by US agencies.
An article in the Thoi bao Kinh te Viet Nam (vneconomy) paper yesterday cited experts as saying local firms should pay more attention to the three-billion-population strong Asian market, including China and ASEAN.
Local firms would find it easier to export to China, where Vietnamese tra fish products met required food standards and fetched reasonable prices, it said.
VASEP has estimated that tra fish exports to China will account for 20 percent of the total this year. However, it has cautioned exporters to focus more on ensuring high-quality products rather than boosting export volumes.
The importance of quality was also stressed by Duong Ngoc Minh, chairman and general director of Hung Vương JSC. He said tra fish exports to China and Hong Kong could surge by almost 30 percent, year-on-year, but added firms should closely control the quality of their tra fish products to avoid trade barriers.
High demand

Like the agriculture ministry, Minh also urged local enterprises to explore the domestic market further by selling tra fish products through the supermarket system.
VASEP general secretary Truong Dinh Hoe said the most important thing at present was the availability of tra fish needed for export processing. In the last quarter of 2016, tra fish processing plants had reduced their capacity by 30 percent over the previous quarter because of a drop in output. This happened at a tine when demand had decreased by 40 percent.
At present, tra fish prices have increased by VND1,000 per kg against the previous month and VND2,000-3,000 per kg year-on-year.
The agriculture ministry said last month's output of tra fish fell by 4.8 percent year-on-year to 71,400 tonnes against the same period last year.
Mr. Hoe said Vietnam has 100 tra fish processors and exporters, with 20 of them accounting for 70-80 percent of local production. Local processors and exporters should find solutions to ensure that there is sufficient supply of tra fish to meet market demand.