The Ministry of Industry and Trade has singled out the recent import tariff cuts as the main reason why Viet Nam's trade deficit is higher than at any time in the past five years.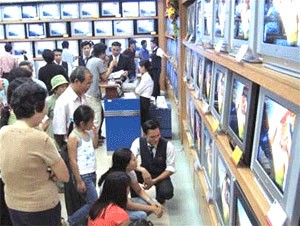 Imports of electrical appliances have surged since the tariff cuts
It's no surprise that the lower tariffs, which are in line with the ASEAN Free Trade Area, have encouraged imports from the region.

This year the country's trade deficit is tipped to reach US$9 billion.

With the import duty on clothing materials falling from 37.3 percent to 13.7 percent, the actual spending on these materials in the first three quarters increased by US$837 million over the corresponding period of 2006.

For the same reason, the import spending on cars and auto parts rose by US$400 million, and on computers and other electronic goods by US$616 million.

In its analysis, which will be submitted to the National Assembly's Economic Committee, the ministry also notes the much stronger demand for imported footwear and foods because of the tariff cuts.