Of the 268 businesses that owed the Ha Noi Government back taxes, 136 have paid up more than VND700 billion (US$32.1 million) after being publicly named last week, according to the city tax department.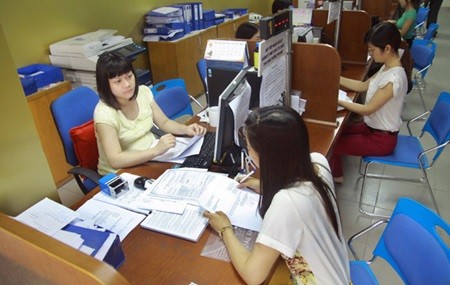 Tax officials instruct taxpayers on procedures in Ha Noi. (Photo: VNA/VNS)
Most of the money related to land-use tax payable for housing projects.
A department official said outing the names of evaders is an effective measure to get businesses to pay taxes.
However, after the department released a list of 600 dodgers, some were found to be wrong. Eight businesses did not belong while 27 others owed less than proclaimed.
The department blamed the errors on a new software.
At a press briefing last Friday, Deputy Finance Minister Do Hoang Anh Tuan said the tax sector apologised for including inaccurate information when it published the names of the debtors. The ministry would put in place measures to solve problems caused by the incorrect information if it affected those businesses' operations, he said.
Publishing the names was compulsory because the amount of unpaid taxes was so high, accounting for up to 10 per cent of the taxes that needed to be collected in 2015, Tuan said.
In the first six months of this year, total unpaid taxes reached VND74 trillion ($3.4 billion).
If no strict measures were taken, tax debt would affect the State budget and investment environment, he said.
According to the ministry's recent dispatch, the 600 companies named had either owed the largest amounts of unpaid taxes in a locality or failed to pay within the stipulated 121-day period despite being notified.
More measures like freezing assets and declaring their receipt books invalid are being contemplated, the dispatch said.
The ministry called on the heads of provincial and city tax departments to use coercive measures to reclaim the unpaid taxes in accordance with the Law on Tax Management.
It plans to publish the names of tax dodgers every month.