Saigon Giai Phong Newspaper has voted the ten most important economic events of 2012--the year that saw a fluctuating economy in both banking and the gold market.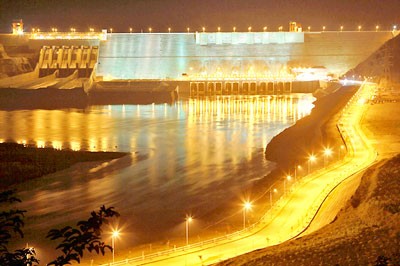 Son La Hydropower Plant was inaugurated in December 2012
1. Son La Hydropower Plant inaugurated
Son La Hydropower Plant, the largest in Southeast Asia, was officially inaugurated in Muong La Town in the northern province of Son La on December 23. The plant has six turbines with total capacity of 2,400MW that can provide more than 10 billion kWh of electricity in a year, amounting to 10 percent of the total output consumed in 2012.
The plant came into operation three years before schedule, yielding a profit of VND45 trillion (US$1.16 billion) and adding VND1 trillion ($48 million) to the annual budget of Son La Province. 
 
2. Vietnam sees trade surplus after 19 years
Despite economic difficulties, Vietnam's exports exceeded imports by US$284 million in 2012. This is the first time Vietnam has seen a trade surplus since 1993.
The country's export turnover in 2012 reached $114.6 billion, an increase of 18.3 percent over 2011.
3. CPI curbed at 6.81 percent
Consumer Price Index (CPI) was curbed at 6.81 percent, much lower than in 2011 and 2010, which was 18.13 percent and 11.75 percent, respectively. The growth rate of CPI in 2012 was close to that in 2009 of 6.52 percent.
4. Credit growth rate lowest in 20 years
According to the State Bank of Vietnam, the credit growth rate in the banking system was recorded at only 4.85 percent in first 11 months of 2012. This is estimated to reach only 5-5.5 percent for the entire 2012, the lowest growth rate since 1992.
5. Monopoly in gold bar production
State Bank of Vietnam offered monopoly of gold bar production to Saigon Jewelry Company (SJC), to create a national gold brand name for subsequent gradual transfer to SBV or State Bank of Vietnam brand.
At present, SJC is the only company permitted to produce gold bars. The monopoly caused SJC gold price to shoot up VND3 million higher than other brands on every tael.
The difference between SJC gold and world gold price is increasing more and more. Towards the end of 2012, the gap was VND5 million ($240) a tael.
Also in 2012 the State Bank instructed credit institutions to stop mobilizing gold and not pay interest to gold creditors.
6. Violations in banking industry and top-level changes
The banking industry witnessed two cases in which Sacombank and TienPhongBank had new director generals.
In particular, the banking system was shaken by fraudulent activities of Huynh Thi Huyen Nhu, former head of the risk management department of VietinBank in Nha Be District of Ho Chi Minh City and her accomplices, who appropriated nearly VND4 trillion ($192 million). A total of 17 offenders were prosecuted in this case.
Several senior officials of the Asia Commercial JS Bank (ACB) were prosecuted for intentionally violating State regulations, which caused severe economic consequences. They include Nguyen Duc Kien, vice chairman of the bank's founding council; former director general Ly Xuan Hai; former chairman Tran Xuan Gia and three former vice chairmen Le Vu Ky, Trinh Kim Quang and Pham Trung Cang.
7. USD/VND exchange rate stabilizes
In 2012 the interbank average exchange rate of the US Dollar to Vietnam Dong stabilized at VND20,828 per USD. The exchange rate at commercial banks also remained steady.
8. Government rescues real estate market
Bad debt in the real estate market was officially announced for the first time in 2012 at nearly VND150 trillion ($7.20 billion). Prime Minister Nguyen Tan Dung and other Government leaders met in Hanoi and Ho Chi Minh City to find solutions to the crisis in the real estate market and resolve bad debts.
The Government finally agreed to issue a resolution to solve difficulties in the real estate market with many preferential policies on taxes and interest rates.
9. Stock market suffers several shocks
After being hit by fluctuation in the banking sector, several listed companies on the stock market either merged or dissolved.
The State Securities Commission of Vietnam strictly monitored operations of 14 stock registered enterprises and revoked license of four companies, namely, Hanoi Stock, Truong Son, SME and Dong Duong.
10. Vietnam fails to achieve GDP growth target
Gross Domestic Product (GDP) growth rate in 2012 reached only 5.03 percent, showing that Vietnam failed to achieve target of 5.2 percent.