On Wednesday, Le Van Dao, the General Secretary of the Vietnam Textile and Apparel Association (VITAS), affirmed that as of January 1, 2007, quotas will be removed for Vietnamese textiles and apparel products exported to US markets.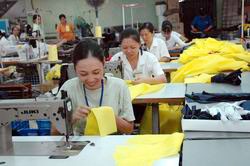 Textile and apparel sector is a strong point of Viet Nam's economy

Removal of the quotas is necessary in order to meet WTO regulations and the requirements of Viet Nam-US bilateral agreements.

"This would create favorable conditions for Vietnamese firms, however, the sector may face some difficulties in 2007", he said.

First, it is likely that the US Committee for the Implementation of Textile Agreements (CITA) will make a specific plan for each lot of export products before this year's quotas expire. That means the US may refuse to import the lots of supplementary quotas for 2006 - at least until 2007.

Second, the US plans to monitor the production of Vietnamese textile and apparel products and conduct investigations if there is any sign of dumping. This may create trade barriers for Vietnamese firms.

To avoid this, the Ministry of Trade advised local firms to strictly supervise the licensing of origin certificates for exported textile and apparel products in order to prevent the possibility that these products could be imported from other countries into Viet Nam, only to be re-routed to US markets.