The plastics industry with annual growth rate averaging 20-25 percent has been targeted by foreign direct investment group especially Thai companies, who have expanded share ownership in many leading plastic firms of Vietnam.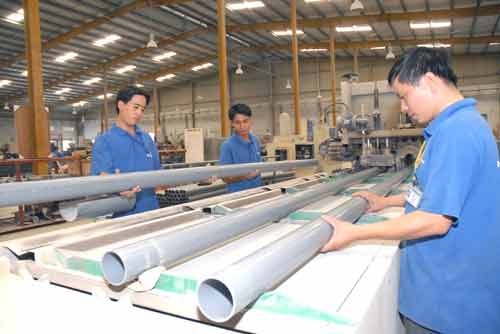 Production at a Vietnamese company with Thai share ownership (Photo: SGGP)
Tin Thanh Packing Joint Stock Company (Batico) has affirmed that Thai Siam Cement Group (SCG) purchased up to 80 percent of its shares and assumed executive authority in July.
At present, twenty year old Batico holds 40 percent market share in the southern region and owns an 18,500 square meter plant Long An province. Another 55,000 square meter plant is under construction.
The HCMC Rubber and Plastics Association said that Batico's customers include big firms like Nestle, Bayer, Henkel, Dupont, Kinh Do, CP, Trung Nguyen, Walmart Gau Do, Vifon and Vinamit.
Previously, the Thai group had also purchased shares of two leading plastic firms in Vietnam namely Tien Phong and Binh Minh.
Tien Phong possesses strong distribution networks in China, Laos, Thailand, Cambodia and Myanmar. In the local market, it has nearly 300 stores and 70 percent of the northern market share.
Binh Minh has 600 stores nationwide and two plants over 90,000 square meters. It has been approved to build a 150,000 square meters plant with triple capacity.
According to director general Nguyen Hoang Ngan, SCG holds 20.4 percent of Binh Minh shares and is completely affordable for higher ownership rate.
The group has spent US$4 billion on a plastic material plant in Vietnam putting heavier pressure on local firms, who have imported 80 percent of materials for production for the last several years and been hit by volatile crude oil price and exchange rates.
They seemed to earn much thanks to the world oil price drop which has slashed material prices this year.  However, the State Bank's exchange rate adjustment has swept away their expected yearend profit.
The coming of foreign firms ahead of the ASEAN Economic Community's establishment will not only put pressure on plastics industry but also other fields with good growth rate such as food processing, beer and cigarette, experts warned.