Thailand should cease viewing Viet Nam as a trade competitor but, instead, look for opportunities to benefit from the country's low labor and manufacturing costs as ASEAN countries have inched toward establishing a regional free trade zone by 2015, Thailand's ambassador to Viet Nam has said.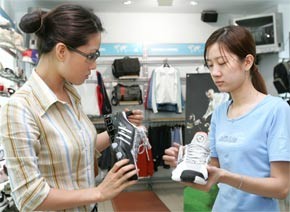 A Vietnamese lady (L) buys Nike shoes made in Viet Nam at a shop in Ho Chi Minh City (Photo: Tuong Thuy)
Ambassador Kittipong Na Ranong said that as ASEAN member countries have pushed for free trade within the bloc, Viet Nam could make a potential production base for Thai goods due to its pool of cheap labor and lower manufacturing overheads.
"The world has changed so much and countries in Indochina are now well linked through better roads and bridges," he said. "This improved network will help transport goods within ASEAN as the bloc is moving toward a regional free trade market."
The Thai diplomat said that under the terms of the free trade zone, goods produced in one member country could supply consumers across the ASEAN market zone.
He said Thai entrepreneurs should, therefore, consider moving its production base of certain goods to Viet Nam to benefit from cheaper labor and raw materials in the neighboring country.
"Besides supplying goods to 84 million consumers in Viet Nam, we will also sell to other ASEAN nations under the free trade agreement," he said.