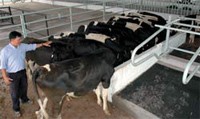 In a dairy farm
The first International Livestock and Dairy Expo 2006 (ILDEX) will take place in Ho Chi Minh City from March 16 to 18, 2006. It is organized by Breeding Department, NCC Exhibition Organizer Co, Ltd (Thailand) and the Viet Nam Trade Fair and Advertising Company.
The expo is attended by many companies from 20 countries with 130 counters. Big names include GSI Group, Big Dutchman, Val, Global Nutrion France, Olmix, Kuhn S.A, Biomin, Meyn Roxell.
It is the annual International livestock exposition which has been organized in many countries.
The Expo 2006 is designed in part to serve the technological demands of specific countries. Information about the expo can be found at
www.ildex.com
.