On June 25, Nguyen Thi Hong, Vice-President of HCMC People's Committee, chaired a meeting discussing a draft restructuring the export business in HCMC during the 2007-2010 period, and extending to 2020 as made by the Trade Department.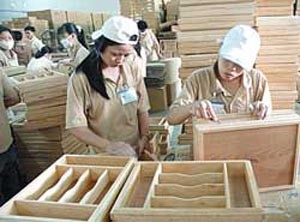 Wooden furniture is produced to be exported to Japan

This program is a stepping stone for a stable increase in exports and the restructuring of the city's economy, following the country's WTO integration.

According to Pham Hoang Ha, Director of Trade Department, the draft was intended for a rise in the export of hi-tech and intelligence-related products, and for a 15 % annual increase in turnover (not including crude oil), a 30-35% annual increase in VAT by 2010 and a 40% increase in major export goods.

To achieve these aims, the draft divided export goods into three groups. Group 1 includes industrial and handcrafted products, group 2 includes products of agriculture, forestry and aquiculture and group 3 includes products of other areas.

By 2010, group 1 is estimated to constitute 61.1% of export goods, among them 4.3% of the hi-tech products and 0.2% of the software products. Notably, wooden furniture is expected to gain 5% of the city's export turnover because of its high quality. Group 2 will decrease from 23% in 2006 to 17% in 2010 due to shortages of raw materials. The turnover increase will depend on the value of the products. The shipbuilding products and the steel products in group 3 will gain 19% of export turnover.

Truong Trong Nghia, Director of HCMC Trade and Investments, described the draft as lacking a general analysis and estimate of the city's export business which plays an important role in exports. He also emphasized the absence of the classification of processed food which is a growing industry.

Mr. Huynh Van Minh, General Director of the Sai Gon Trade Company, shared Mr. Nghia's views, suggesting the list of exported goods in the draft should be reconsidered to avoid overlapping.

Mr. Tran Quoc Manh, CEO of Sai Gon Production and Trade Joint Stock Company, stressed that companies need exact data and collaboration from government departments so that they can make suitable detailed plans.

Attendants at the meeting also emphasized the importance of training staff which is vital for the existence of businesses.