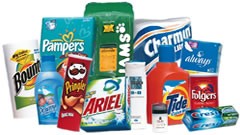 Procter & Gamble, one of the U.S corporations in Viet Nam
The U.S. is the leading investor in Viet Nam in 2005 with its capital of over US$530 million.
The total foreign direct investment (FDI) capital from the U.S. to Viet Nam including the amount via a third country from 1998 to 2004 reached US$2.6 billion, according to the group that has studied the impact of BTA in 2005.
"U.S. corporations often invest in Viet Nam through their branches based in third states like Singapore and Hongkong. U.S. companies are encouraged to have investment through their subsidiaries abroad, which are approved by the U.S. tax laws. Furthermore, the management and administration through local branches would be more convenient and effective." said Steve Parker, Director of the USAID-funded Star-Vietnam Project.
"This is the first evaluation over the impact of BTA on the U.S. investment in Viet Nam, which gave us a new view on the former's investment. It is believed to be the initial stage of the U.S investors. I affirm that FDI would rise significantly in the coming years when the BTA roadmap is implemented," said Mr. Nguyen Anh Tuan, Deputy Director of the MPI's Foreign Investment Department.