The Central Theoretical Council held its eighth meeting in Bac Ninh Province on April 13, focusing on "a number of problems facing Vietnam's economy in the ongoing global economic crisis."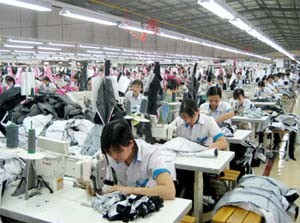 Workers at an garment export factory in Thai Nguyen Province. As the global economic recession bites, Vietnam's exports are declining. (Photo: Thai Nguyen online) 
To Huy Rua, Politburo Member, Secretary of the Party Central Committee, Head of the Party Central Committee's Commission for Propaganda and Education, and Chairman of the Central Theoretical Council, presented a report on theoretical and practical recession-related issues Vietnam needs to deal with.
Providing an analysis of the crisis' causes, developments, and trends, the report said: "Being a component of the world economy and a member of the WTO, Vietnam's economy is still weaker but more open than some other economies in the region as well as the world. So the country cannot avoid the impact of the global economic slump.
"As a result, Vietnam has seen its GDP decline, exports slow down, foreign investment fall, and some other major fields wane."
The report focused on the problems Vietnam needs to resolve to minimize the impact on its market-oriented economy.
"After 20 years of 'doi moi' (renovation), Vietnam has been successful in shifting from a planned to a market economy, the report said.
"But economic growth has yet to match the potential. The economy's quality, efficiency, and competitiveness remain low, and its restructuring and modernization remains sluggish.
 
"Most of the major exports are raw materials, outsourced goods and semi-processed goods, not advantageous in international trade."
After discussing the opportunities and challenges facing the economy, and considering the experience of other countries in coping with them, members agreed that the country needs to improve its concept of economic development, find measures to maintain economic stability and growth, ensure social security, speed up industrialization and modernization, and strengthen international integration.
The Council said it would provide the Party Central Executive Committee, Politburo, and Party Secretariat advice related to socioeconomic development and the impact of the global economic turmoil.