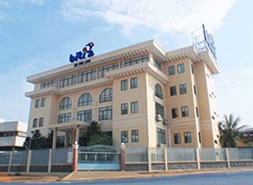 Binh Tien Imex Corporation (Biti's) in Ho Chi Minh City, Viet Nam.
Thirteen leather and footwear enterprises awarded 2005 "Corporate Social Responsibility" prize in Ha Noi, on February 23, 2006.
The ceremony was held by the Viet Nam Ministries of Industry, Labor, War Invalids and Social Affairs, the Viet Nam General Confederation of Labor, and the Viet Nam Leather and Footwear Association.
Among of the thirteen enterprises are Binh Tien Imex corporation (Biti's), Binh Tien Dong Nai Imex corporation (Biti's), Binh Tan company (Bita's), An Giang Shoes company, and Thai Binh Shoes Production company.
These enterprises have applied initiatives of social responsibility to safeguard interests for laborers, community and environment, to aims to a safe working environment, and to upgrade laborers' education and knowledge.