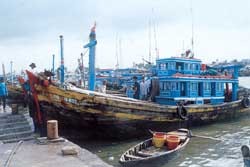 Well-equipped and of high capacity offshore fishing boats will be built to ensure the fishermen's safety.
Vietnamese Minister of Fisheries Ta Quang Ngoc recently signed a circular providing guideline for relevant authorities' closer management of new fishing boat building and registering as well as granting fishing license. This is aimed at promptly reducing the number of inshore fishing boats.
The ministry set its target to reduce the total number of fishing boats in the entire country to 50,000 by 2010. Particularly, there will be less than 6,000 fishing boats of 75CV or over, 14,000 boats of 46-75 CV, and less than 20,000 boats of 21- 45CV.
Besides, the ministry hopes to maintain its fishing output at 1.5-1.8 million tons, which are splitted into 0.27 million tons from the Gulf of Tonkin, 0.37 million tons from the central coastal area, 0.71 million tons from the South-east coastal area, 0.2 million tons from the South-west coastal area and 0.25 million tons from the East Sea coastal area and international waters.
Also, the Ministry asked relevant authorities to instruct fishermen in mapping out their plans for loan applications to build offshore fishing boats, aiming at stimulating well-equipped and of high capacity fishing boats, ensuring the fishermen's safety.