Although the real estate market has been frozen for years, there is still a demand for properties with high quality, honest builders and reasonable prices.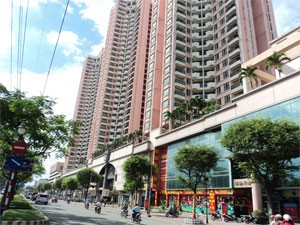 Le Hoang Chau, chairman of the Vietnam Real Estate Association, notices that it is time to buy high-quality apartments with a reasonable price (Photo:Minh Tri)
Tran Thi Thanh Hai, director of the property exchange Tai Nguyen, said many customers contacted her firm to ask for information about the apartment building Kenton Residences in Nha Be District.
"They [customers] were attracted by the building's good-for-traffic location, nice interior designs and even harmonious feng shui. The building is also anti-earthquake up to seven richer," Hai said.
Many economists expected the market would rally this year on the fact that investors usually considered property as safe haven as inflation climbed on the increasing gasoline and consumption prices.
"Credit crunch forced builders to halt property projects, prompting to a decreasing supply on the market. However, it paved the way to construction firms to take profits from their properties, which have high quality and reasonable prices," said Dr. Tran Hoang Ngan, member of the National Advisory Council for Financial and Monetary Policies.
Le Hoang Chau, chairman of the Vietnam Real Estate Association, noticed that it was time to buy high-quality apartments with a reasonable price.
Economist Vu Dinh Anh estimated that the government's cap on the lending growth of loans on property and stock investments has wiped US$5 billion out of the real estate and stock markets.
Analysts said the property market in Ho Chi Minh City has been gloomy for nearly four years, with an abundant supply and negative sales.
Statistics from the property market consultancy CB Richard Ellis Vietnam show 40,000 apartments made debut this year, while around 10,000 have not been occupied since last year.
Real estate prices are really only high in Hanoi, Thanh Nien Weekly newspaper quoted Dang Hung Vo, former Deputy Minister of Natural Resources and Environment, as saying in an interview early this month.
"In Ho Chi Minh City, trading is very slow, and prices have fallen sharply. A flat in a newly-established district in HCMC could cost between VND12-15 million per square meter— marginally more than the construction cost," Vo said.
"Speculation is down throughout the country, but it's up in Hanoi because land has always been scarce in the capital."
On March 1, the State Bank of Vietnam ordered all lenders to limit credit to non-production businesses, including real estate projects, at 22 percent of total loans by June 30, and at 16 percent by the end of the year.
The government in February approved a plan to cut annual credit growth to below 20 percent from the initial target of 23 percent as part of a series of measures to curb inflation.