The 2009 Vietnam Gold Star Awards were given to the Top 200 businesses in Vietnam, which have made great contributions to the economy, at a ceremony in Hanoi September 2.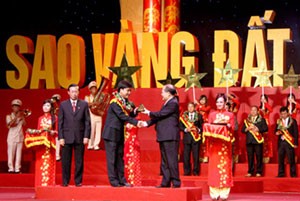 Permanent Deputy Prime Minister Nguyen Sinh Hung (R) gives the 2009 Vietnam Gold Star awards to enterprises (photo:chinhphu.vn)
The awards, attended by the Permanent Deputy Prime Minister, Nguyen Sinh Hung, celebrated those business which have a collect turnover of VND453 trillion (US$8 billion), total export turnover of $1.8 billion, have paid more than VND34 trillion in taxes and created jobs for more than 300,000 people.
On this occasion, the companies also donated VND1.5 billion to a charity fund for disadvantaged children.
Among the 200 trade marks, the organization committee this year also honored the Top 100 and Top Ten.
The Top Ten must meet the following criteria of transparency, turnover, rate between benefit and owned capital, growing speed of turnover, the number of workers, tax revenue, donations to charity, managerial capacity, capacity in risk control and sustainable development.
This year's Top Ten were Vietnam Bank for Agriculture and Rural Development (Agribank), Saigon Jewelry Company (SJC), Petrovietnam Fertilizer and Chemicals Joint Stock Corporation, Truong Hai Automobile Joint-Stock Co., Viet Tien Garment Import-Export Joint Stock Company, Kinh Bac Urban Development Joint Stock Company, Vietnam - Italy Steel Joint Stock Co., Gentraco Joint Stock Company, Gentraco Joint Stock Company, Vietnam Electricity Cable Joint Stock Company and Hoa Sen Corporation.
Mr. Nguyen Sinh Hung praised the businesses and recognized their roles in preventing the economic slowdown in the globalization integration process. 
He also encouraged Vietnamese businesses to promote growth rates strongly and implement strategies of the Government and Party to bring Vietnam into a modern industrial country.
The Deputy Prime Minister thanked the organization committee for its work, including members from the Central Union, Vietnam Youth Union Association and Vietnam Young Businesspeople Association.