Vietnam lured 1,171 foreign development investment (FDI) projects last year worth over $64 billion, nearly double that of 2007. Among them are eight of the biggest projects.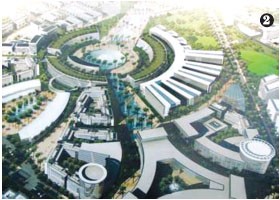 New City Vietnam Tourism Project
Son Duong Port and Steel Complex
The project was began July 2008 by the Taiwanese group Formosa at the Vung Ang Economic Zone in Ha Tinh province.
A large-scale FDI project in Vietnam, the project costs $7.9 billion, 95 percent was invested by Formosa and the rest by the UK's Cayman Islands based Sunsco.
The complex will be one of the largest of its kind in Southeast Asia, capable of churning out 7.5 million tons of steel per year and accommodate cargo ships with loads of 200,000-300,000 tons.
New City Vietnam Tourism Project
The project is an investment by a Brunei company, New City Properties Development Co., Ltd, with a total investment of $4.345 billion.
 
This complex began development July 2008 on 565 hectares in Phu Yen Province, covering four areas: Hon Chua Island, Xep Yard, Anh phu commune of Tuy Hoa City, and South Tuy Hoa Urban Center.
It will house hotels, office buildings, restaurants, healthcare centers, a golf course and sport clubs.
Ho Tram Tourism and Resort Complex
Developed by Asian Coast Development Ltd. based in Canada, the project was begun May 2008 with a capital of $4.2 billion.
The complex is situated in 169 hectares in Xuyen Moc commune, Ba Ria-Vung Tau Province.
This complex will be 5-star standard and will be home to hotels, restaurants, recreation centers, nursing homes, and conferencing and exhibition centers.
Vietnam International University Township Project
 
In July 2008, Malaysian based Berjaya Land Berhad was granted a license to develop a project for a Vietnam International University Township (VIUT) in Tan Thoi Nhi commune, Hoc Mon district, HCM City.
With an investment of $3.5 billion, the VIUT project covers 925 hectares and will comprise an education center, residential areas, trade centers, recreation and sports facilities.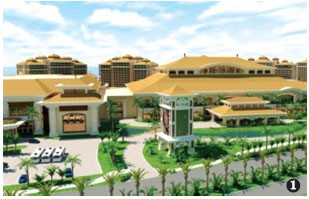 Son Duong Port and Steel Complex
Cua Dai Beach Resort
Starbay Viet Nam, an affiliate of Starbay Holding Group based in the U.S., is developing a project worth $1.64 billion.
The project will sit in 540 hectares in Dai beach, Ganh Dau commune, Phu Quoc Island.
The resort will include nursing centers, a golf course, hotels, restaurants, villas and apartments, trade centers, and conferencing facilities.
5-Star Complex
The American group Good Choice is building a tourism complex in Ba Ria-Vung Tau Province with an investment of $1.3 billion.
It will have hotels, relaxation centers, exhibition and conferencing centers, healthcare facilities and food halls.
TA Associates International Project
TA Associates International Vietnam, part of the Singaporean group TA Associates International is being developed at a cost of $1.2 billion. The project will consist of office buildings, a human resource training center and apartments.
The project was implemented in HCM City with initial costs of $180 million.
Urban, Hotel, Trade and Service Complex
  
With an investment of $750 million, Water Front Ltd., based in Singapore, has been licensed to develop a project for urban centers, hotels, and trade and service centers in the southern province of Dong Nai.