The final negotiation round of the Trans-Pacific Partnership (TPP) concluded in the U.S. on Monday, bringing Vietnam gladness with opportunities to further global integration but also concerns over challenges that it must overcome to enjoy benefits from the agreement.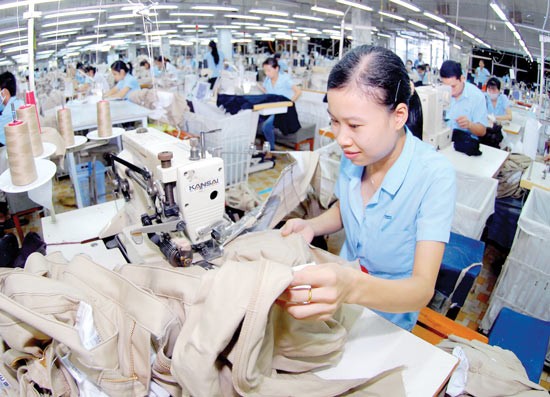 Vietnam's garment and textile industry is estimated to enjoy many advantages from TPP (Photo: SGGP)
Sai Gon Giai Phong interviewed some experts and businesses on this matter.
 
Breeding industry faces big challenge
 
According to Deputy Minister of Agriculture and Rural Development Ha Cong Tuan, TPP will open a big chance for agriculture and rural development. Businesses will be able to broaden their market to TPP member nations.
 
Tariff cuts have been applied to over 90 percent of export items of Vietnam, many have enjoyed 0 percent tax rate.
 
However, it will face many challenges especially to breeding industry. At present, farm household model is still popular and the number of hi-tech firms is very limited making it difficult for local breeding products to compete with import items.
Sixty five percent of 3,500 businesses in agricultural field mainly breeding part has the capital of less than VND5 billion (US$223,100).
 
Fierce competition in plastic industry
 
Director General of Binh Minh Plastic Company Nguyen Hoang Ngan said that the signing of free trade agreements has attracted flows of foreign direct investment (FDI) capital to Vietnam.
 
In the plastics industry, Thai Siam Cement Group SCG has invested over US$30 billion to build two plastic resin material plants, the two largest in Vietnam.  This has put local firms in a severer price competition as they have entirely imported materials for production so far.
 
Garment, textile meets with material origin rules
  
TPP will offer Vietnamese garment and textile products with 0 percent tax rate. Local businesses have to meet material origin rules to enjoy that while they have depended on imports.
 
Some fibre plants have been built but the number is insignificant compared material demand of businesses.
 
Recently, FDI projects have been licensed to build large scale fibre plants. But they will mainly provide their investors who are foreign garment makers not local businesses.
 
Many Vietnamese companies might not be able to enjoy tax cuts for failing to ensure the origin rule and face severer export competition with FDI firms.
 
Gold opportunity for leather, footwear, handbag
 
TPP would eliminate current tariff rates of 3.5-57.4 percent to 0 percent, a gold chance for local businesses to develop and boost export, said Secretary General of the Vietnam Association for Leather, Footwear and Handbag Association Phan Thanh Xuan.
 
She also added some challenges from materials, human resources for product development and business administration.
 
Implementation of intellectual property rights
 
Chairman of Le Media Jsc Luong Quoc Vinh said that abiding by and implementing intellectual property rights would much affect Vietnam's economy.
 
Developed nations like Canada, Australia and Japan have paid much attention to this matter in TPP negotiations. Meantime, Vietnam has not done it approximately making it the most weakness hindering the development of Vietnam's creative industry.
 
Gains more than losses
 
Director of WTO center under the Vietnam Chamber of Commerce and Industry Nguyen Thi Thu Trang, said that TPP was expected to greatly benefit Vietnam with tax incentives, FDI flows, material supply source increase, and service improvement.
 
However, they will just become true if Vietnam takes appropriate actions and meet related requirements.
 
"The challenge is not from what we will loss but which TPP benefits we might miss," she said.
 
She stressed two aspects that Vietnam will gain more than loss. Firstly, TPP will fuel Vietnam's ongoing implementation of works to reform investment environment, state-own enterprises and Government expenditures.
 
Secondly, TPP with commitments on labor standard and environment and technical assistances will help the country develop sustainably.