Trade ministers of 12 Trans-Pacific Partnership (TPP) member states have reached the final consensus on the world's largest free trade agreement.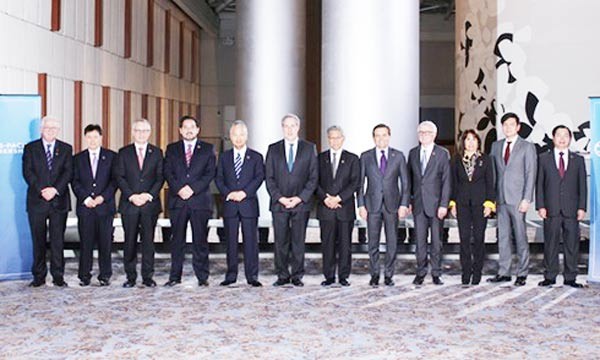 Trade ministers of TPP member states (Source: VNA)
Their meeting was scheduled for September 30 – October 1 but later extended to October 5, concluding their negotiation.
They settled differences on lifting technical barriers on automobile spare parts imported into North America, Canada and the US's market opening for New Zealand dairy products and extended intellectual protection of new drugs.
The TPP represents about 40 percent of the global gross domestic product and a population of 800 million people. The deal must be officially signed by the participants and be approved by the legislature of each nation before taking effect.
Started out as P-4 by Chile, New Zealand, Singapore and Mexico, the TPP was joined by the US in September 2008 and Vietnam by early 2009.
The TPP countries are Australia, Brunei, Canada, Chile, Japan, Malaysia, Mexico, New Zealand, Peru, Singapore, the US and Vietnam.