Two-way trade turnover between Vietnam and Latin America has kept increasing for the last decades and believed to continue moving up after the Trans-Pacific Partnership (TPP) takes effect, said delegates at a seminar hosted by the Ho Chi Minh City Center for Investment and Trade Promotion recently.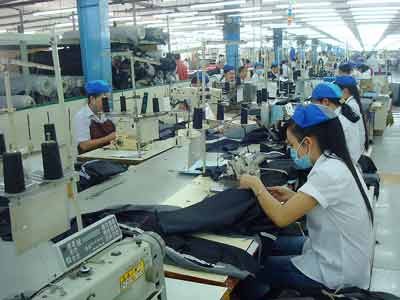 Workers at Nha Be garment company make clothes for exports (Photo: SGGP)
According to the Ministry of Industry and Trade, Vietnam has set up trade relations with all 33 Latin American nations.
Two way turnover was only tens of millions of U.S. dollar in 1990, which increased to US$245 million in 2000, US$9.5 billion in 2014, up 40.7 percent over the previous year.
Of these, Vietnam's export value to Latin America reached US$4.71 billion, up nearly 37 percent over 2013 and import from this region hit US$4.8 billion, an increase of 44.9 percent.
The trade balance between Vietnam and Latin American relatively equilibrates, they said.
Main trade partners of Vietnam include Brazil, Mexico, Chile, Columbia, Panama, Cuba, Peru, Argentina, Uruguay and Ecuador. Of them, Chile, Peru and Mexico have attended in TPP negotiation rounds.
Mr. Luis Tsuboyama, representative of the Peruvian Embassy to Vietnam, said that the agreement will permit Peru to access five new markets including Vietnam.
Right after TPP takes effect, Vietnam will remove 66 percent tariff lines equivalent to 98 percent of Peru's export turnover to Vietnam. Frozen salmon, codfish, tuna, anchovy and fish liver oil will enjoy tax exemption.
Peru has also committed to abolish 80.7 percent tariff lines equivalent to 62 percent of its import turnover from Vietnam.
Besides ten existing key export products to Latin American, Vietnam will have chance to export cashew nuts, longan, litchi and dragon fruits to Peru if meeting its sanitary and phytosanitary (SPS) requirements.
Mexico will clear 77.2 percent tariff lines accounting for 36.5 percent of Vietnam's export turnover to the country.
 
Chile will abolish 95.1 percent of tariff lines accounting for 60.2 percent of Vietnam's export turnover to this country.
Despite not joining TPP, Cuba has also drawn Vietnamese businesses' interest. The Trade Promotion Agency under the Ministry of Industry and Trade reported that VN-Cuba bilateral trade turnover reached US$206 million in 2014, which is believed to more develop.
Mr. Tran Duy Dong, deputy head of the ministry's American Market Department, said that Latin America with crowded population has imported huge volumes of goods for consumption and production. Most local consumers like import commodities and Vietnam have many products suiting their demand. 
Their foreign relation policy has headed Asia including Vietnam and two way trade has relatively balanced for the last decades.
However there are many difficulties in penetrating this market. Vietnamese firms have lacked market information and faced language barrier. Long geographical distance has rocketed transport costs while payment terms have not been advantageous. Mexico, Brazil and Argentina have been in the trend of more protecting their production.
Besides, Vietnamese goods have seen fierce competition from Chinese and Indian goods in Latin America while trade promotion activities to this market have not been a priority.
Mr. Dong proposed to intensify supplying market information to both Vietnamese and Latin American businesses, assist them in online export, do market surveys to find partners, send delegates to attend fairs and expos in this region and invite Latin American businesses to attend in such evens in Vietnam.
If these works are well performed, Vietnam will be likely to take advantage of opportunities from TPP and boost export to the Latin American market.