Trade counsellors should work as a bridge to help Vietnamese businesses boost exports and promote their products abroad, Prime Minister Nguyen Tan Dung has said.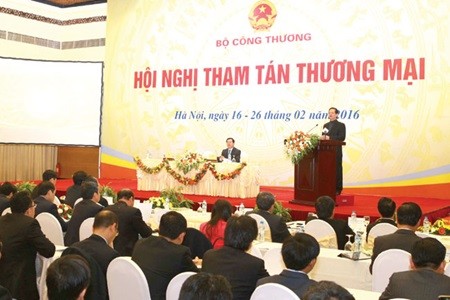 Attendees listen to a speech given by PM Nguyen Tan Dung at the trade counsellors conference yesterday. (Photo: VNA/VNS)

Dung told the Trade Counsellor Conference 2016 held in Ha Noi that trade counsellors should take every opportunity to remove trade barriers and limit anti-dumping lawsuits.
The trade counsellors should provide more information about their host countries to Vietnamese businesses, protect their interests and propose expanding their list of export items in each individual market, he said.
Minister of Industry and Trade Vu Huy Hoang said the conference aimed to popularise guidelines of the 12th National Party Congress on increasing foreign trade activities at a time when Viet Nam has been integrated deeper into the regional and world economies.
The event is expected to help Vietnamese businesses maximise opportunities afforded by free trade agreements to which the Southeast Asian country is a signatory, Hoang added.
At the same time, the conference helps the Ministry of Industry and Trade (MoIT) tighten its co-ordination with other ministries, agencies and localities to fulfil the government's economic development targets, he said.
The minister suggested to the trade counsellors that they make proposals to the government, the prime minister, ministries, and agencies, along with the localities while working with businesses to seek solutions.
Delegates at the event heard reports on the foreign market, foreign investment in Viet Nam and its overseas investments.
They also debated issues regarding international economic integration, trade promotion, competitiveness, and international co-operation in industry, as well as energy and agriculture, and measures to spur the country's exports.
Hailing the contribution of the commercial affairs offices to the success of the industry and trade sector, Deputy Minister Tran Tuan Anh suggested they focus on export promotion.
The offices should target promising markets, attach more importance to the industrial sector and make the best use of opportunities brought about by the integration process, he said.
Within the framework of the conference, the delegates had a working session with representatives from the Ministry of Planning and Investment and the Ministry of Agriculture and Rural Development to discuss how to lure more foreign investments in the farming sector and promote produce exports.
Viet Nam has 56 trade affairs offices around the world. In the 2014-2015 period, they successfully completed tasks by actively implementing trade promotion and providing market information to local exporters. The trade affairs offices launched more than 600 trade promotion activities in the two years while offering support to businesses.
In the year of 2016, the trade affairs offices were asked to implement key tasks including closely co-operating with domestic agencies, strengthening studying of policies in their based countries, as well as enhancing trade promotion activities to support exporters.